Watch Half-Life 2 Run Smooth As Butter Natively On A Raspberry Pi 4
Half-Life 2
might be the new "
Can it run DOOM?
" It may be hard to believe, but Valve's magnum opus is now 19 years old which some would argue even makes it worthy of the "Retro" moniker. To show how far computing has come, one person decided to try running it on a Raspberry Pi 4, and lo and behold, it works!
Taking advantage of the 2018
Team Fortress 2
source code leak, the creator successfully compiled the software on a Raspberry Pi 4 using its ARM-based architecture. Not only did the creator make the game work on a Raspberry Pi, but they also implemented additional features.
Half-Life 2 running on Raspberry Pi 4
How can a Raspberry Pi 4 manage to run such an intensive title? It's simple, the Raspberry Pi 4 has 256 MB graphics capability, which was the minimum recommended spec at the launch of
Half-Life 2
. The
Raspberry Pi 4
also supports OpenGL, which the Source Engine uses. While you won't get the best FPS for the title on the little microcomputer, it's fast and smooth enough to be playable.
According to the commit history of the
GitHub repository
that Redditor
zbios
used, the team implemented support for Android, OSX, FreeBSD, and a Windows compile just yesterday, and added support for non-android arm64 devices, namely a Raspberry Pi 4. That means a natively compiled version of
Half-Life 2
could run also on M1 or M2 Macs instead of using Rosetta. Windows on ARM is not supported as of this writing.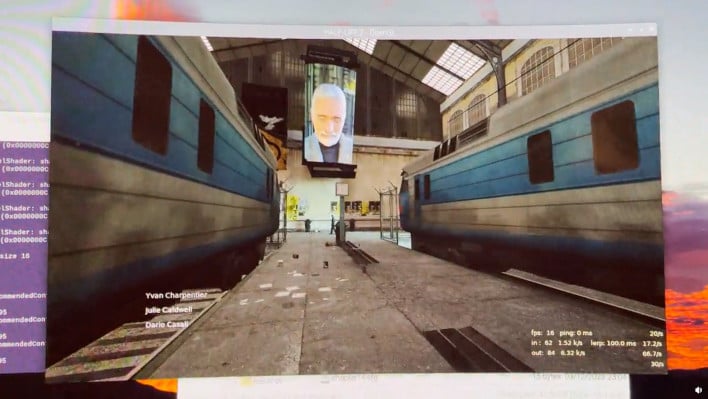 Half-Life 2 Scene with Dr. Breen on Monitor running on Raspberry Pi 4
Why would Android be included? Some solid set-top boxes, like the NVIDIA Shield, can run the title natively. Even more impressive, though, is that this version also implemented touch support. Yep, you could play
Half-Life 2
using your phone. While utilizing leaked source code is always a bit iffy for something like this, we hope this show of support for expanding where Source-engine games can run might open up Valve to some new possibilities. After all, Epic Games'
Fortnite
is popular on mobile, so why not games like
Counter-Strike: Global Offensive
or
Team Fortress 2
?
As there are so many ways and places to game today, let us know what devices you'd like to see Valve games show up on in the comments below.