Ultra-Rare Apple 1 Built By Wozniak And Jobs Hits Auction For A Cool $1.5M
If you think the
iPhone 15 Pro Max
is expensive, wait until you see the asking price for an original and still functioning Apple-1 computer. Housed in its original Byte Shop case made from Hawaiian koa wood (which is also rare), this piece of computing history could fetch the owner a staggering $1.5 million, assuming it sells for the full asking price.
Auction fees and other expenses will eat into the massive payday, but the seller will still pocket well over a million bucks if someone bites. That said, it's listed as a 'Buy It Now' auction without any bidding, so it won't command more than $1.5 million. Additionally, the seller is open to offers (via eBay's 'Make offer' feature), so someone could conceivably it for less.
According the auction's list of revisions, the seller first posted this Apple-1 for sale in February, 2020. Apparently the seller is hoping that if enough time goes by, someone will eventually scoop this up. And they might be right—the highest price paid for an Apple-1 stands at $905,000, paid by The Henry Ford Museum in Dearborn, Michigan in 2014.
More recently, an original
Apple-1 prototype
sold for $677,196 at the RR Auction house. The reason these pieces of computing history command such exorbitant sum is because, well, some people have
a lot
of money. But the real reason is because so few of these systems still exist.
Apple co-founder Steve Wozniak designed the Apple-1, which released in 1976. Along with Apple co-founder Steve Jobs, the original Apple duo only built a total of 200 Apple-1 computers. It's estimated that only 82 of those still exist.
Adding the rarity, less than six remain with the original Byte Shop koa wood chassis, according to the auction listing, most of which are in museums.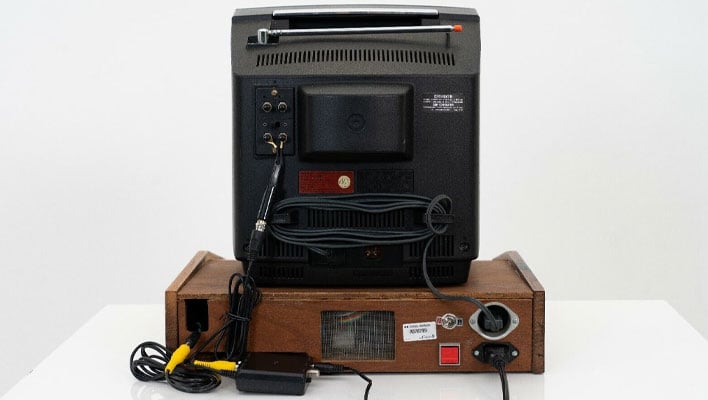 "This is a verified fully operational original Apple-1 computer system in excellent condition in its original Byte Shop koa wood case, with original power supply and Datanetics Version D keyboard. This Apple-1 is an unmodified NTI board in almost perfect condition on both front and back of the main board where you can see there have been no modifications or repairs," the seller states.
"This system was verified as original by Apple-1 expert Corey Cohen as recently as August 2019 at the Vintage Computer Festival West where it was one of two continually operated units during the show with over 6 hours each day of full operation," the seller adds.
The seller says they took possession of the Apple-1 in early 1978, having acquired it from the original owner as part of a trade-in for an Apple II at a computer store they maintained in Montreal, Canada. It comes with a "period Sony TV-115, as recommended by Steve Jobs," complete with a video modulator. It also includes a certificate of authenticity by Achim Baque, curator of the Apple-1 Registry website.
While $1.5 million is obviously a lot of money, the shipping fee in the
Apple-1 auction
is listed at just $1. How can you pass that up?