Here Are The Top Rated PC Games To Play Over Holiday Break And A Bunch Are Free
Valve has released its compilation of its top games over the past year, which as it has
done in the past
is broken up into different categories. For example, there are separate lists for the most-played and top earning games of 2021. Be that as it may, there is one discernible trend—gamers like free-to-play titles. A lot.
The list of most-played games are filled with titles that achieved the highest number of players through December 15, 2021. Valve included every game that reached more than 30,000 players for the year, though the Platinum tier—those that achieved over 200,000 peak players—is almost split in half between free and paid games.
Here's a look...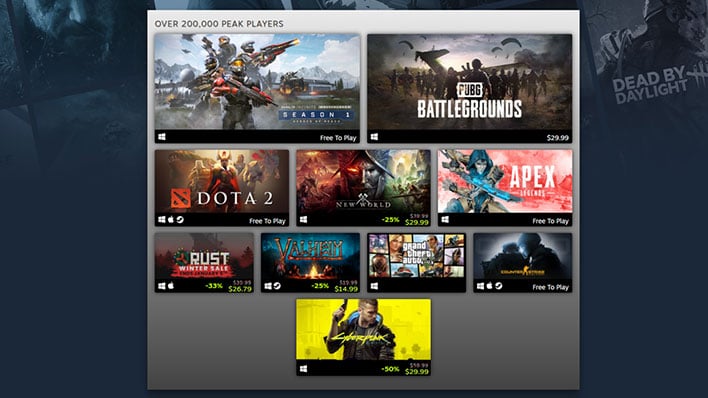 The free-to-play games in the Platinum tier include...
That others that broke into the Platinum tier include...
One thing I found particularly interesting is that four of the top 10 earners over the past year have also been free-to-play titles, including Apex Legends, CSGO, and Dota 2 mentioned above, plus
Destiny 2
. If you were hoping that in-game purchases would fall by the wayside, this ranking is precisely the reason why it's not going to happen—publishers are making
big bucks on microtransactions
.
That's not to say any of the free-to-play titles are bad, and hey, you can play a game like CSGO for free without ever investing in skins. But the reality is, in-game purchases are going to be around for a very long time.
There's also a category for the top controller-friendly games, and no surprise it contains a handful of sports and racing sims. Here's a look at the ones that reached Platinum...
There are other categories to peruse, as well as
Steam's blog post
explaining each one in detail. Check it out and then let us know in the comments section what your favorite game of 2021 is!