Telly Wants To Give You A 55-Inch 4K HDR Smart TV For Free But There's A Catch
The going rate for a 55-inch
4K smart TV
is around $280 and up, with some models costing several hundred dollars more depending on the features and quality of the panel. But what if you could get one without spending a dime? A startup called Telly is hoping that the allure of a no-cost 4K smart TV with HDR support will convince shoppers to accept a key caveat—a secondary "Smart Screen" with ads.
It's being pitched as "the first TV paid for by brands." The premise is simple—companies buy targeted ad space and you, the consumer, provide details about your home so that brands like
Pepsi
, Kia, and others can fling
"non-intrusive" advertisements on the integrated secondary display, which sits underneath a soundbar.
"Now, all smart TVs come with ads. But you still pay for the TV. All of that changes today. During the signup process we ask questions about you and your household to optimize your ad experience. Brands in turn, pay for the non-intrusive ad on the Smart Screen. That's how you get Telly free. Plain and simple. It's time you got cut in on the deal," Telly states on its website.
If the concept catches on, Telly could quickly make a name for itself and force established players like Samsung, Sony, LG, and others to ponder if something like this has legs. It brings to mind the early days of NetZero, which traded free dial-up internet access for a persistent ad banner.
The idea comes from Telly founder and CEO Ilya Pozin, a name you might recognize as the co-founder of Pluto TV.
"Telly is the biggest innovation in television since color...When I co-founded Pluto TV, we created an entirely new model that offered amazing TV content to viewers for free. Now, with Telly, we are providing the actual television for free as well," Pozin said in a statement.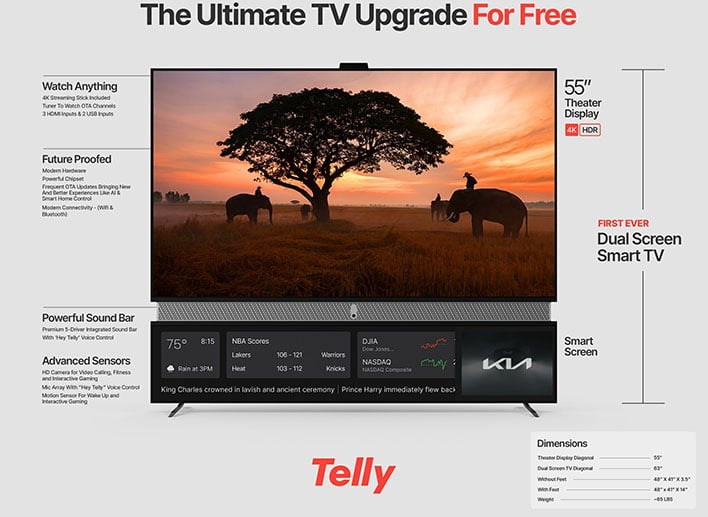 The TV sports three HDMI ports and a built-in TV tuner. Both displays are powered by TellyOS, which doesn't appear to offer any smart apps like Netflix and Hulu. However, Telly is also including a 4K
Android TV
streaming stick.
What's also interesting is that the secondary display will not exclusively serve up ads, but can also let viewers "stay up to date with the latest news, sports scores, weather, stocks, and so much more." Telly's also pushing capabilities such as voice calling, gaming, music, and so forth.
For those interested, Telly has opened its
reservation system
for what it says are the first
500,000 free units
that will ship out this summer. The implication is that even more free TV sets could go out if this proves a success. We'll have to wait and see.