Microsoft Scrubs References To Surface Hub 2X, Official Launch Now In Doubt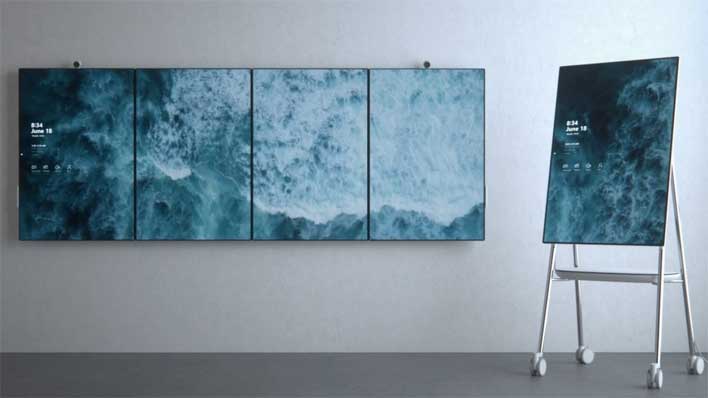 Back in 2018 when Microsoft first unveiled the Surface Hub 2, it announced some interesting features that the product would offer including the ability to rotate the display 90 degrees and link multiple displays together as tiles. Fast forward a few months later and Microsoft announced that it would ship two Surface Hub 2 models including the 2S and the 2X. The 2S ditched some of the interesting features that Microsoft originally promised, such as the tiling feature and rotating display. Other than those two, admittedly important features, the 2S and 2X were essentially the same product. Microsoft has now delayed the Surface Hub 2X according to people claiming to be familiar with its plans.
While the sources cited by Petri claim that the display has been delayed, it looks as if the display has actually been canceled. This is surmised because Microsoft has removed assets related to the 2X, including a Surface Hub 2 video that talked about the 2X. Microsoft is saying nothing official about delaying or discontinuing the 2X at this time.
A Microsoft spokesperson told Petri that it had a "dialogue" with customers on Hub and were working with those customers to align the roadmap to best meet their needs. The representative also said the top two priorities for the Hub team in 2020 were deploying the 85-inch device and rolling out an OS update that adds new features customers have been requesting. Among the features that have been highly requested for the Surface 2S is improved IT integration. The spokesperson did say that Microsoft will have more to share in the "coming months."
Microsoft sees the Surface Hub as an integral member of the Surface family and there is no indication that the accompanying Surface Hub 2S is being canceled or discontinued anytime soon. Speculation hints that perhaps Microsoft is having an issue with Windows Core OS, which could be causing the delays. However, if Microsoft wasn't intending to cancel the 2X we don't think it would've taken the time to scrub mentions of the product from past videos. We'll be on the lookout for an official announcement of product cancellation in the future.