Steam's Massive Overhaul Is Here With A Fresh Look And New Capabilities For Gamers
In 2003, what would become the
premiere game storefront online
, Steam was launched to the public from a little company called Valve. In the time since then, there have been a plethora of seasonal sales, game releases, and memes about
Half-Life 3
. In the latest updates from the platform,
several new UI features
bring the Steam interface to the modern era after months nearing years of beta testing.
On the user side of the house,
Steam
has received a new coat of paint with new dialogs, menus, fonts, and colors. The goal was to "[bring] targeted visual and usability improvements across Steam," which can be seen in the new main Steam header and footer, Settings menu, and the Screenshot Manager. Of course, the changes are not limited to these locations, but it is where they stand out the most.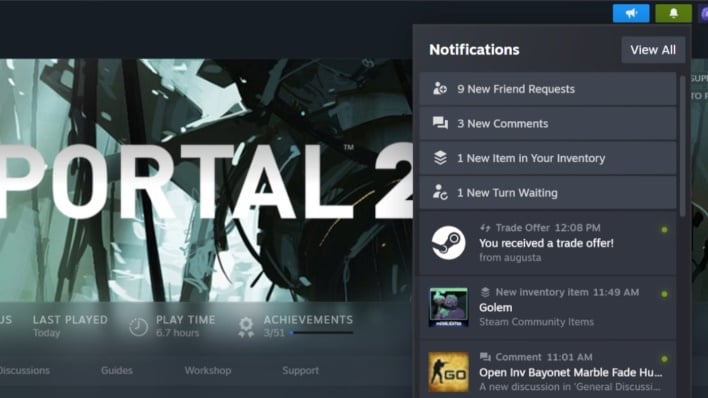 While snooping around, users might also notice more useful notifications, including a breakdown of specific notifications. Moreover, the little green bell will only light up when something brand new has yet to be read, so you can ignore friends without it notifying you via the bell each time you open Steam.
Jumping into games, there is now a redesigned in-game overlay with enhanced utility and customization coupled with a handy toolbar. Of course, you can move things, add, or remove panels and tabs as you need to make the in-game overlay useful to you. This is also paired with the new Notes feature so you can take down information quickly and easily. This is not limited to text, though, as there can be images, multiple notes for the game, and local and cloud saves, so your notes go wherever you go. Then you can pin this to your game so it stays on top as you play or do this with any other tab if you so choose.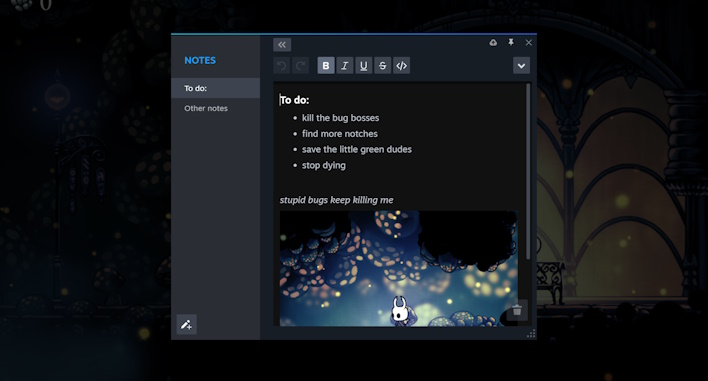 Behind the scenes,
Valve
did some refactoring of the Steam codebase such that there is a better sharing of code across the Steam Desktop Client, Big Picture Mode, and the Steam Deck. This will allow the development team to implement features or fixes more quickly, such as those implemented in this update which are shipping to Steam Deck simultaneously. There was also some technical work that went into the Mac and Linux versions of Steam so that they will be snappier too.
Overall, Valve is putting some good work into Steam to make it more usable and look better overall, and we are here for it. Hopefully,
good updates like this
continue to roll out, and as such, stay tuned here and let us know what you think of the changes in the comments below.