Steam Deck's Shader Storage Limitation Is No Match For This 61TB SSD Mod
If you bought a Steam Deck with a
256GB or 512GB SSD inside
, you're probably not aware of an issue that affects people with the cheaper 64GB model. You see, games on SteamOS download pre-compiled shader libraries as well as additional data to help with Steam Deck compatibility, and this data can take up quite a bit of space on your internal SSD if you have numerous games installed to your MicroSD card. With just the 64GB eMMC module that comes with the cheapest Steam Deck, it can fill up pretty darn fast.
You could solve this problem by moving those files to your MicroSD card. You also could address the issue by
upgrading your 64MB eMMC
to a larger SSD; there are many M.2-2230 SSDs on the market now. What you probably shouldn't do is install a 61.44TB—yes, 61 terabyte—SSD into your Steam Deck.
Top and above images: StorageReview

Okay, fair enough—if we're being honest, the drive wasn't really "installed into" the Steam Deck. What was installed into the Steam Deck was an M.2-to-U.2 adapter, and then the SATA-like U.2 cable runs out of the Steam Deck to a dock where the 2.5"
Solidigm D5-P5336 SSD
lives. This means that the Deck in question is at least temporarily converted to a stationary device, as you can't run it without internal storage connected.
The setup is even more absurd than it seems, because the gigantic Solidigm SSD draws far more power than an M.2 slot can provide, so the external enclosure also requires an ATX power supply hookup. That makes this configuration one of the wildest things we've seen done to a Steam Deck, but it's basically impossible to beat the results in terms of storage space.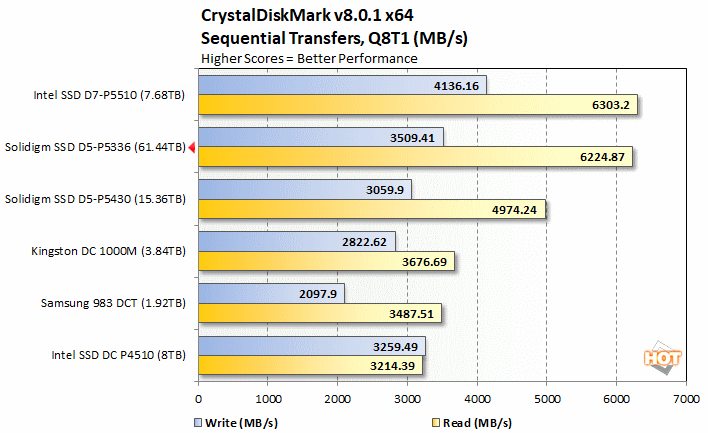 Indeed, you could download the entirety of multiple people's Steam libraries onto that SSD and never worry about space. Best of all, that drive is fully capable of meeting the 2.5 GB/s sustained transfer rate requirement of
Microsoft's DirectStorage
. Actually, it's capable of a lot more than that, but StorageReview notes that performance was limited to around 3.6 GB/second due to the PCIe 3.0 interface of the Steam Deck.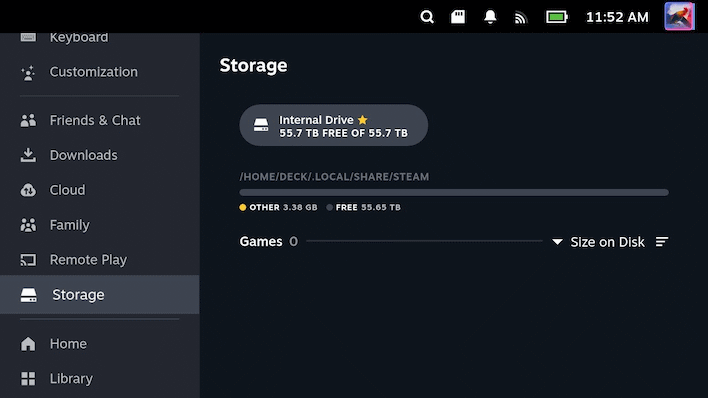 Notably, besides imaging the SteamOS install onto the titanic 61TB SSD, no real setup or configuration was required—the machine simply detected the SSD and booted normally. That's not particularly surprising in light of the fact that the Steam Deck really is just a PC, though.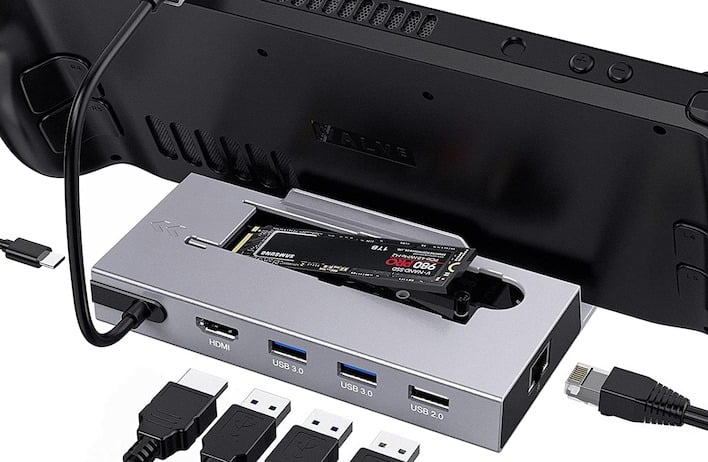 While we certainly wouldn't recommend this mod
as performed over at StorageReview
, a docking station to hold such a drive could be an excellent addition to your Steam Deck. We haven't seen any docks with 2.5" disk slots, but
this Camgeet Steam Deck dock
includes HDMI, Ethernet, USB ports, and an M.2 socket for some extra solid-state storage. It normally runs close to $80, and its current $59.99 price is the lowest it's ever been, so snag one now if you need it.