Starbucks Is Brewing An NFT Loyalty Program And There's Actually A Waitlist, Isn't That Grande?
Non-fungible tokens
, or better known as NFTs, are not something you would typically expect to be paired with your Iced Caramel Macchiato at Starbucks. However, the company announced Monday its new loyalty program, Starbucks Odyssey, that will do just that, and there is already a waitlist.
Starbucks Odyssey is the coffee giant's newest loyalty program. It will allow participants to earn and purchase digital collectible assets that will in turn unlock new benefits and give the coffee drinker an immersive coffee experience. The experience will be powered by Web3 technology and was rolled out to those fortunate enough to sign-up early enough to not be placed on the current waitlist.
Starbucks becomes one of the first companies to "integrate
NFT
s with an industry-leading loyalty program at scale," according to a blog post from the company yesterday. The company known for its coffee, is creating an accessible Web3 community that it says, "will enable new ways to engage with members and partners (employees)."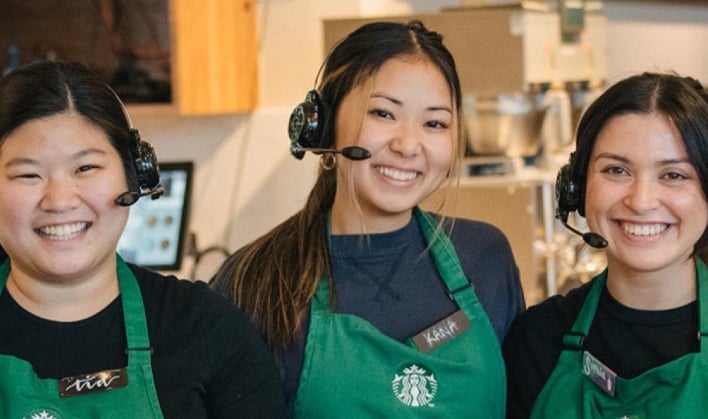 "Starbucks has always served as the Third Place, a place between home and work where you feel the warmth of connection over coffee, community and belonging," stated Brady Brewer, Starbucks Executive Vice President and Chief Marketing Officer. Brady continued, "The Starbucks Odyssey experience will extend the Third Place connection to the digital world. For the first time we are connecting our Starbucks Rewards loyalty program members not just to Starbucks, but to each other."
Once you are able to become part of the new program, you can access the benefits through your Starbucks login credentials. Once logged in, you can engage in "journeys," that are filled with a series of activities. Those activities will include things such as playing interactive games or taking on challenges that will test your knowledge of both coffee and Starbucks. As you complete a journey, you will be rewarded with a digital collectible 'journey stamp,'(NFT).
If you are not into doing things to get your NFTs, don't worry as the company will also have a built-in marketplace where you can purchase 'limited-edition stamps'. You will not be required to have a crypto wallet or cryptocurrency, just a valid credit card.
Each collectible stamp will be accompanied by a point value based on its rarity. This will make it possible to by or sell with other members of the marketplace, with ownership secured on a blockchain. The more stamps you collect, the more points you will accumulate, and the more benefits and experiences you will unlock. Experiences include rewards such as a virtual espresso martini-making class, access to unique merchandise, artist collaborations, and even a trip to Starbucks Hacienda Alsacia coffee farm in Costa Rica.
As mentioned, there is already a
waitlist
for the program. So, if you are wanting to take part and begin building your coffee NFT collection, you will need to get on the waitlist as soon as possible.
Have you already signed up to be part of
Starbucks Odyssey
, or are you going to sign up? Let us know in the comments.