Sony Revives The Walkman In Two Stunningly Slick Android Digital Music Players
Sure, your phone plays music, but does it play music
well
? Those with audiophile leanings might want to take note of Sony's latest portable music players, the Walkman NW-ZX707 (above) and NW-A306. The product naming is pretty nebulous, and the feature sets are maybe a bit esoteric. They have FTCAP3 high-polymer capacitors, gold reflow solder, and other seemingly inconsequential features that audio enthusiasts will salivate over. These Android-powered music players also don't come cheap, but it could
be worse
.
The Walkman NW-A306 (below) is the cheaper of the two devices, but that's a relative term. The NW-A306 still retails for $350, and it's positively tiny by today's standards, with a 3.6-inch 720p LCD. It manages a lot in a small package, though. It has a rigid aluminum frame, gold solder, and Fine Sound Resistors.
Sony
says this device has a new S-Master HX digital amp designed specifically for Walkman to produce "full-bodied sound." It can play high-resolution audio in just about any format you can imagine, from FLAC to DSD.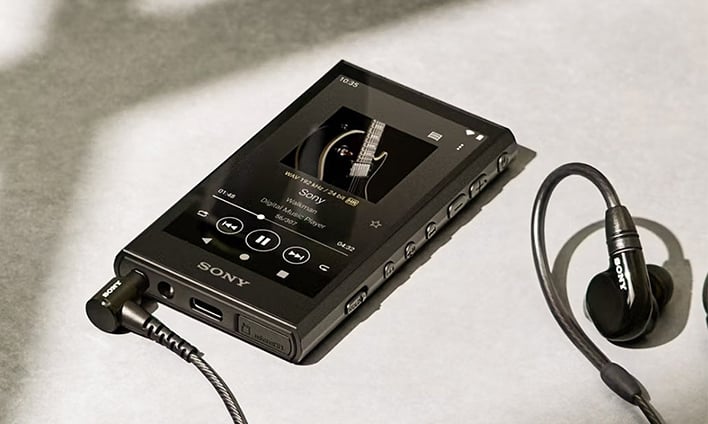 The NW-ZX707 has the same S-Master HX digital amp technology as the cheaper Walkman, but it represents a big step up in audiophile pretentiousness. This $900 music player has higher-quality FTCAP3 capacitors and an oxygen-free copper milled block on top of the digital circuitry for better shielding. Sony claims the improved hardware gives the NW-ZX707 superior sound reproduction, which you can enjoy via the standard 3.5mm jack or a balanced 4.4mm jack. This device is a bit larger with its 5-inch 720p LCD.
Both devices have the same blocky Walkman aesthetic, with physical playback buttons along one side. They charge over USB-C, but battery life varies dramatically depending on what sort of files you're playing. The NW-A306 will run for over 30 hours playing MP3 and FLAC files, but the highest quality DSD content could drain it in just 14 hours. The NW-ZX707 doesn't run quite as long, topping out around 24 or 25 hours with most music, but mega-quality DSD music over the balanced jack will run through the battery in just 11 hours.
These devices run Android 12 with all the usual Google apps and services. So, you can download streaming music apps (or whatever else you want) if you don't demand the innate quality boost of local playback. Although, spending $900 on a dedicated music player to stream Spotify seems like a waste of potential. You can pick up the
NW-ZX707
and
NW-A306
devices from Sony's online store or Amazon (
NW-ZX707
,
NW-A306
). However, the more expensive NW-ZX707 is showing a 1-2 month wait right now.