Sony Reveals PlayStation Plus Price Hikes, How To Secure The Old Rate
If you're subscribed to one of Sony's
PlayStation Plus
subscription plans, here's a heads up that you're about to pay more for the same service. Sony casually revealed the updated pricing structure at the bottom of a blog post, in which it also unveiled three new games that are headed to the subscription service in September, those being
Saints Row
,
Black Desert - Traveler Edition
, and
Generation Zero
.
The primary perks of PlayStation Plus are access to online multiplayer functionality, monthly downloadable games, and exclusive discounts. All of those are included in the base Essential tier, along with features such as cloud storage for saving game progress and Share Play, among a few other perks.
You get the same benefits on the pricier Extra tier, along with access to a downloadable catalog of nearly 400
PlayStation 5
and PlayStation 4 games. It also includes Ubisoft+ Classics, which is a collection of over two dozen popular Ubisoft titles such as
Assassin's Creed Valhalla
,
For Honor, Far Cry 4
,
The Crew
,
Watch Dogs
, and others.
Then there's the top Premium tier. It includes everything in the lower tiers, plus cloud streaming support, game trials (time limited up to two hours) with the ability to earn Trophies, and access to a catalog of PlayStation 3, PlayStation 2, PlayStation 1, and PlayStation Portable (PSP) games.
You can subscribe to any tier for a monthly or discounted quarterly rate, or pay for a year in advance for the best price. It's that latter option that is going up. Here's how the updated 12-month subscription prices will look like when they go into effect...
PlayStation Plus Essential: $79.99 USD | 71,99 Euro | 59.99 GBP | 6,800 Yen
PlayStation Plus Extra: $134.99 USD | 125,99 Euro | 99.99 GBP | 11,700 Yen
PlayStation Plus Premium: $159.99 USD | 151,99 Euro | 119.99 GBP | 13,900 Yen
So for gamers who go the annual route, prices are increasing by $20/annually for the Essential plan, $35 for the Extra plan, and $40 for the Premium tier.
Sony's updated PlayStation Plus pricing comes just a couple months after Microsoft raised the rates on some of its Xbox Game Pass plans. As you might imagine, the knee-jerk reaction by gamers hasn't been very positive, as evidenced by a quick glance on X/Twitter.

"They increased the price for PlayStation Plus? LMFAO, alright maybe I'll switch back to PC," one user wrote. Another user stated, "Cancelled the f**k out of PlayStation Plus today. Not gonna be touching that system at all for the rest of the year now." And in another post, a user sarcastically commented, "At least Sony waited to announce the PlayStation Plus 33% price hike during a month when the drop some real bangers and remind us that it's worth every penny," followed by poop and laughing emojis.
How To Lock In The Current PlayStation Rate Before Prices Shoot Up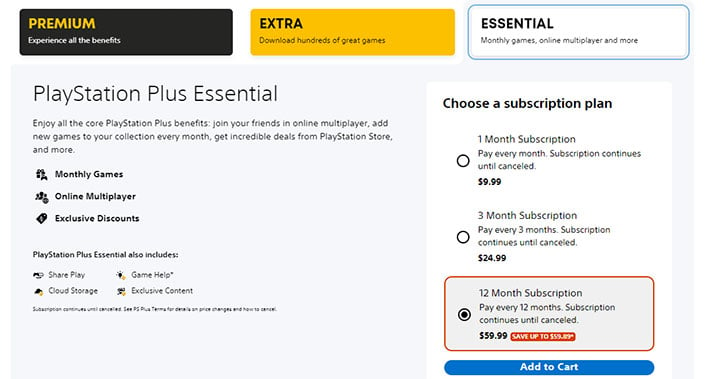 Sony says the updated
PlayStation Plus pricing
will not go into effect until your next renewal date that occurs on or after November 6, 2023. However, you only have until next Wednesday to lock in the current rate.
"Any membership changes you make on or after September 6, such as upgrades, downgrades or buying additional time, will update your plan reflecting the new prices. You can change or cancel your subscription at any time," Sony says.
The good news is, there's still time to lock in the current 'discounted' rate, but you'll have to act fast. You can do this by heading to the
PlayStation Plus subscription page
and selecting the 12-month option for whichever tier you're interested in. Just choose carefully since any upgrades after September 6 will carry the higher price tag.