Sony And Honda Wheel Out Afeela Electric Vehicle Brand To Take On Tesla
AFEELA is a joint venture between Sony and Honda that presented its first prototype as a new type of mobility at CES 2023. Sony Honda Mobility Inc. (SHM) has a corporate purpose of "Move people, through the pursuit of innovation with diverse inspirations," and looks to take on
Tesla
in the electric and autonomous vehicle industry.
SHM presented its new brand AFEELA at this year's CES event, along with unveiling a prototype which demonstrates a new relationship between people and mobility. The company announced its intention of developing an
autonomous vehicle
back in late November of 2022. The revealed prototype has a total of 45 cameras and sensors inside and outside the vehicle, combined with 800 TOPS of maximum computing power.
The company aims to create a new mobility lifestyle by leading people's hearts and minds toward an open, pleasant and exciting experience, according to a press release. In order to realize this, the company aims to revolutionize the mobility space as a Mobility Tech Company.
The new brand AFEELA has "FEEL" at its core, and represents what the mobility experience is all about. It expresses an interactive relationship which has people "FEEL" mobility as an intelligent entity, and mobility "FEELs" people and society by utilizing sensing ad network IT technologies.
The prototype's design aims to bring new value standards for mobility. SHM stated in its press release, "As we reach an inflection point where the elements of a car is shifting from power and performance to software, networks, and user experiences, we reexamined the individuality and form of vehicle design up until now, and by further refining, we aimed to highlight the essential values and sublimate them into a pure and strong design."
The prototype's exterior includes a "Media Bar" which allows intelligent mobility to express itself to surrounding people using light, enabling interactive communication between mobility and people. The vehicle's interior has a gentle rounded tone, encasing its occupants in a "soft cocoon." The interior was designed to provide a people centric experience that provides functionality that people desire.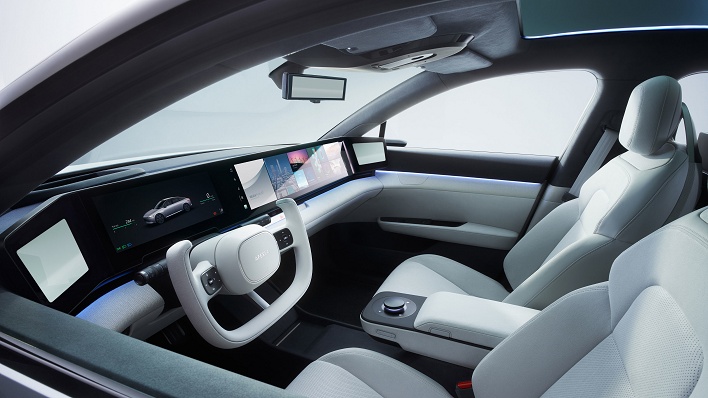 The company is looking to develop Level 3 automated drive under limited conditions and to enable Level 2+ driver assistance in more situations such as urban driving. Plans are to utilize the SoCs from Qualcomm
Snapdragon
Digital Chassis for 800 TOPS maximum computing performance. The multitude of cameras and sensors will help detect the driver's and car's situation to help avoid accidents.
SHM
says it will develop the production model based on the unveiled prototype, and plans on taking pre-orders in the first half of 2025, commerce sales to begin at the end of 2025, and delivery to begin from the Spring of 2026 in North America.