Get Cooking With Smart Oven, Fryer And Microwave Deals Up To 33% Off Before Thanksgiving
Juicy deals are appearing ahead of Black Friday and not just for computer hardware, either. As we approach Thanksgiving Day, there are quite a few bargains on smart ovens, fryers, and microwaves that have popped up. Before you plan your feast, check out these discounted kitchen appliances that can help make the big day go a lot smoother.
One of the bigger discounts is a 33% savings on
GE's Profile Smart Oven
, which is marked down to
$298.96 on Amazon
(save $150.04). This large-capacity countertop oven is an a 11-in-1 gadget with enough room to accommodate a 12-inch pizza, a 13-inch by 9-inch sheet cake, or up to 8 pounds of chicken. You're not going to jam a 20-pound turkey inside this thing, but it's great for the side dishes (or main dishes outside of Thanksgiving Day).
Those 11 functions include air fry, warm, toast, broil, roast, pastry, reheat, pizza, cookies, bake, and bagel. So there's quite a bit of versatility here. It also features a one-touch, high-rise door, along with voice control to adjust the time and temperature, zero preheat technology, and a max temperature of 500 degrees.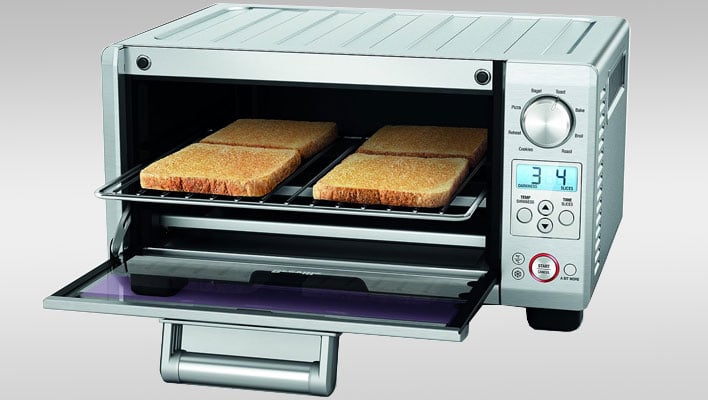 If you're looking for something more affordable but is also versatile, then check out this
Breville Mini Smart Toaster Oven
that's on sale for
$127.95 (save $52)
. This brushed stainless steel appliance is a delicious 29% off its regular MSRP and supports a bunch of modes, including toast, bake, broil, roast, cookies, reheat, pizza, and bagel.
Built around Breville's iQ system, it uses four independent quartz elements and a smart algorithm to deliver power where it's needed, regardless of what you're trying to cook or heat up. It's also relatively compact, measuring 16.1 inches by 14.2 inches by 10.4 inches, so it won't dominate your kitchen countertop. However, there's still enough room to fit four slices of toast or bagels, an 11-inch pizza, and a 6-cup muffin tray (not all at once, of course).
This is a highly-rated smart toaster oven with a 4.6 (out of 5) star rating from over 7,300 user reviews. It's also one of a whole bunch of Breville kitchen appliances that are on sale.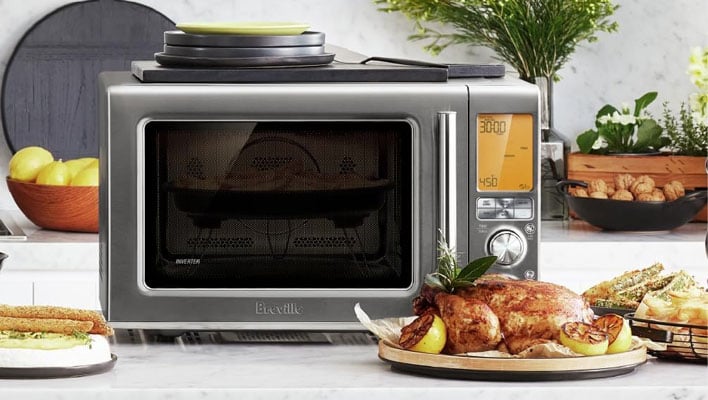 Another one that got our attention is the
Breville Combi Wave 3-in-1
appliance that's on sale for
$399.95 (save $100)
. It's not cheap even after the 20% discount, but it serves as a microwave, air fryer, and toaster oven rolled into one.
This one also features Breville's iQ system, albeit with 1,200 watts of convection input power. It also has a cook-from-frozen function that taps into the convection oven, grill, and microwave at different cooking stages to take the hassle out of defrosting. It's part of 19 built-in smart presets.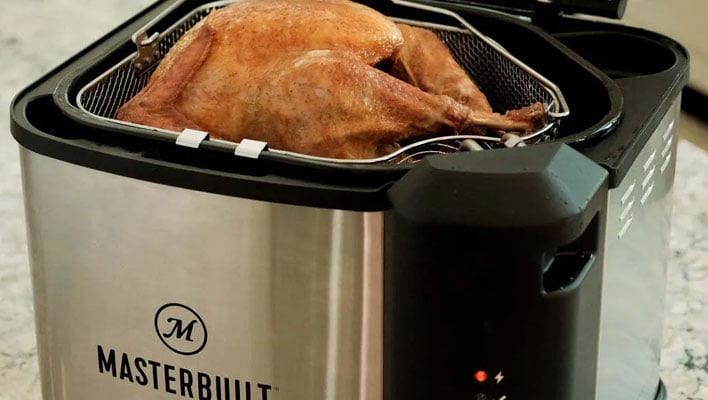 I debated whether to include the
Masterbuilt XL Electric Fryer
because it's not deeply discounted—it's available for
$117.74 on Amazon
, which is a 9% discount—but ultimately decided to because it's my go-to appliance every Thanksgiving. I've been using this fryer (an earlier model) for many years now and the results are always the same—juicy, tender turkey that wipes the floor with cooking one in the oven.
The downside is that oil can be expensive. I like to use peanut oil, which carries a premium over some other types. But the results are always amazing. Just be sure to follow the instructions, especially the part about patting down the turkey (inside and out) to remove water before slowing dunking the tray in the blazing hot oil. That said, once you fry a turkey, you'll never go back to baking one again.
Here are some more appliance deals...