Sega Saturn Gets Modded Into A Handheld Console For Glorious Retro Gaming On Uranus
The Sega Saturn, which succeeded the 32X add-on for the Master System/Genesis, was the first standalone disc-based system Sega produced before its unfortunate hardware market demise with the Dreamcast. The console played host to some incredible titles, including Virtua Fighter 2, Virtua Cop, Tomb Raider, Sonic 3D Blast, and more for the US market. There was always a glaring problem with the set-top-box console though; it was challenging to take it with you. Well, no more!
We have now seen a portable Sega Saturn thanks to a retro modder. The creator has helpfully shared just about all of the steps involved in shrinking down the hardware. It requires significant shortening of circuitry or completely new boards to fit the smaller formfactor. In the end, though, it's completely playable. So, now, you can enjoy your beat downs as Akira Yuki in Virtual Fighter 2 on the bus.
This isn't the first foray into shrinking disc systems for China-based modder TZMWX. In December of 2021, they
posted a series
of detailed posts on just one method of shrinking down the components of a Sega Saturn to make them portable. We highly recommend sifting through that whole thread if you're into electronics. That previous shrunken Sega Saturn wasn't just a Sega Saturn, though. It's also a shrunken PlayStation, which the creator dubbed the SegaStation.
This recent update is a prototype with a more retro feel. The creator called it "URANUS" because no matter how much we enjoy electronics, we're still twelve-year-olds at heart. While a disc system on the go would be cool, may we remind those of you who enjoyed living through the 90s of the Discman? While it's not explicitly shown in the video, the previous SegaStation TZMWX made utilizes an SD card. There's a ton more details on the most
recent Twitter posts
relating to the smaller Saturn mod from them as well.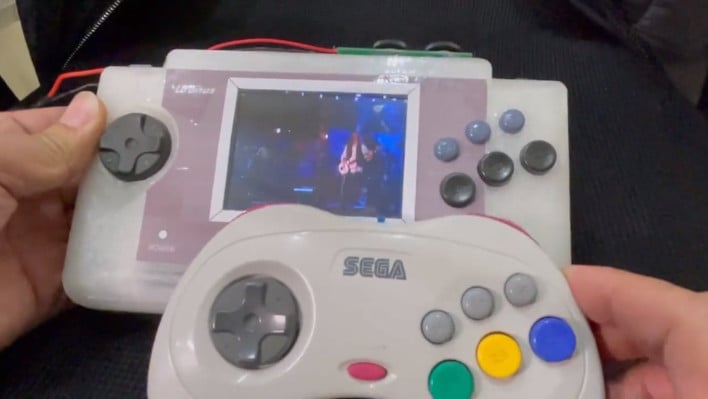 Image of Uranus Sega Saturn Portable Prototype with Sega Saturn Controller for Scale
Of the many parts of this creation, one of the most impressive ones is the scale. This portable is not much larger than a Sega Saturn controller, and the video shows it. If frankensteined portable classic consoles are what we
keep seeing from modders
, well, we're here for it. So, we want to know, if you could make one of your classic consoles into a handheld, what would you pick? Let us know in the comments!