Scientists Are Mesmerized By These Unusual Circular Sand Dunes On Mars
While sand dunes come in many shapes and sizes on Mars, the nearly perfect circular sand dunes found recently are unusual. The images were captured by the Mars Reconnaissance Orbiter (MRO), which was launched in 2005 and arrived at Mars in 2006.
The images were captured by the High Resolution Imaging Science Experiment (
HiRISE
), which is one of six instruments onboard MRO. The camera is operated by the University of Arizona, in Tucson. The HiRISE camera is capable of imaging up to 30 centimeters per pixel, making it ideal for studying the surface of Mars. The recent images released by NASA show how frost disappears in the late winter. The image at the top was taken at a latitude of 42.505 degrees and a longitude of 67.076 degrees, on November 22, 2022.
The sand
dunes
captured in the images are slightly asymmetrical, with steep slip faces on the south ends. These features indicate that the sand moves toward the south, but the winds may vary, according to a blog post by the University of Arizona.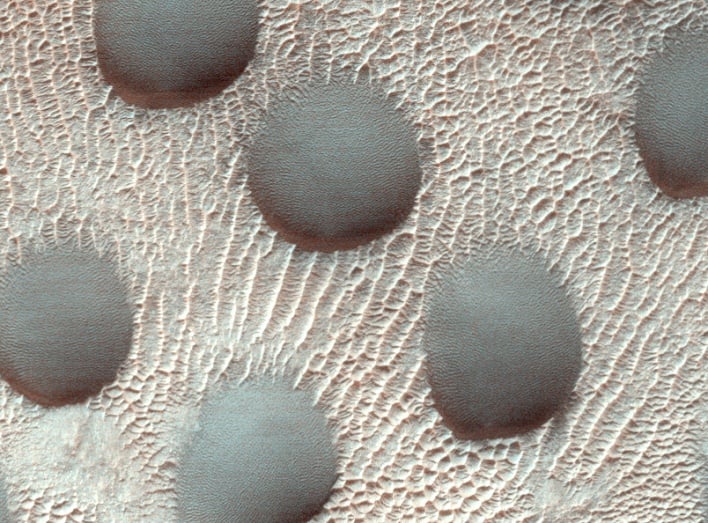 The image above shows the sand dunes while they were still covered in frost. Past studies have indicated that there is evidence of a past ice age in the northern polar ice cap of Mars. That study included images collected by the Shallow Radar (SHARAD) instrument on NASA's Mars Reconnaissance Orbiter in May of 2016.
The location shown in the images is just one of 60 sites on the Red Planet that is being monitored by HiRISE. The collection of images has given scientists the ability to observe how quickly the sand dunes move. The data has revealed that sand dunes from the equator to the poles are moving at a rate of up to 3.3 feet (1 meter) per Martian year.
Even though the primary mission of
MRO
was completed in 2010, the spacecraft continues to extend its value.