Santa Trackers Are Now Live, How To Find Jolly Ol' Saint Nick In The Christmas Eve Sky
Every year on this day, kids around the world wait with baited breath for Jolly Old Saint Nicholas to pay them a visit and – assuming they've been good all year – bless them with gifts and treats. As kids have gotten more tech savvy and impatient, however, it has also become somewhat of a tradition for them to track Santa's every move to see just how close he and his pack of loyal reindeer may be. Thankfully,
NORAD
and
Google
have us covered this year with multiple tools and games, which make tracking Santa and keeping the kids entertained while you sip on Uncle Jack's special egg nog, quick, easy and just a few clicks away.
Despite an ongoing global pandemic, a
widespread security flaw
affecting systems and applications worldwide, and continuing supply chain shortages, Santa's crack team was still able to get him airborne on-time and on-track to deliver his important payloads. Like Joey at the payphones in Grand Central Station, Santa is already
getting' stupid busy
. As of this writing, Santa has delivered over 2.3 billion presents, according to NORAD Tracks Santa.
NORAD Tracks Santa
plots Santa's course in real-time over a 3D map of the globe. Simply hit the website and click on 'Start Tracking Santa Now' and you'll automatically zero in on his location. If you don't feel like whipping out your phone or sitting in front of your computer, though, NORAD Tracks Santa also offers Amazon Alexa and OnStar integration. Calling 1-877-Hi-NORAD is also an option if you want to kick it old school and actually make a phone call.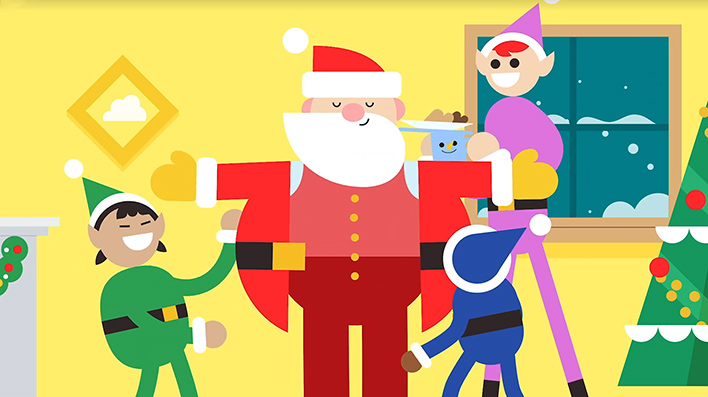 Should NORAD Tracks Santa be a bit too clinical for your (or your kids' tastes), Google has a Santa Tracker site up as well.
Google's Santa Tracker
uses a simpler 2D map to pinpoint Santa's whereabouts, but over and above the map, there are numerous live feeds, videos, animations, and games also available on the site. Those of you with younger children may dig some of the more interactive aspects of the site. 'Santa Selfie' in particular may keep young kids busy for a while, as they primp and prime Santa using the various grooming tools available. We hear on good authority that dying Santa's beard HH blue and gold is a great way to ensure a new
GPU
ends up under your tree, but keep that between us.
If you spot any surprises while tracking Santa this evening, be sure to drop into the comments section below and let everyone know. Merry Christmas!