Samsung Galaxy A54 5G Is Here To Battle Google's Pixel 6a For Budget Android Crown
Samsung is ready to continue its dominance in the mid-range smartphone arena with the Galaxy A54 and A34, promising improvements in speed and night photography.
Google's A-series are starting to get a lot of media attention nowadays, but Samsung's A-series of phones have been juggernauts in global sales, ranking as some of the top selling phones in 2022 (more so than even the S22 series).The latest A54 and A34
are here
to try to retain that dominance by offering better cameras, improved endurance, and brighter displays.
You'll noticed that the design is more akin to the
S23 family
right off the bat—gone is the camera island from the
previous gen
. It's cleaner, simpler, and we like it. The A54's separate lenses show off the 50MP OIS main sensor, 12MP ultrawide, and 5MP macro (the A34 rocks a 48MP/8MP/5MP equivalent). Apparently, Samsung says that nighttime and low-light captures on the A54 should be better due to larger sensor size, but we'll hold final judgement when the phone arrives. Both models also carry a top-center 32MP selfie. The A54 uses a punch hole cutout while the A34 has a larger teardrop cutout.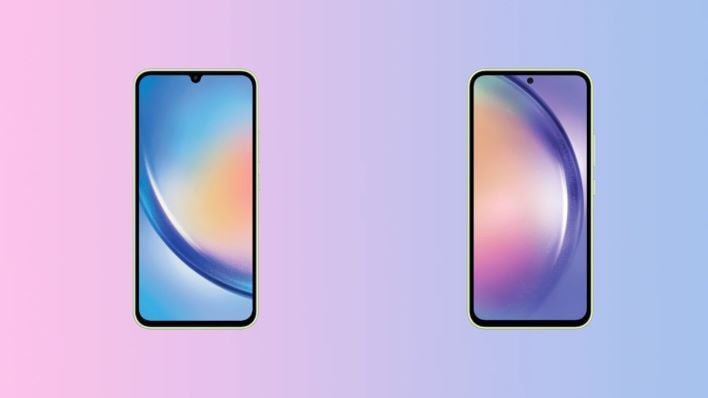 Left: Samsung Galaxy A34; Right: Samsung Galaxy A54
Bumping up from last year's Exynos 1280, the A54 comes with the 1380 chipset. Many reviewers (and users) lamented the occasionally stuttery performance of the previous model, so it'll be interesting to see if the new revision makes a difference.
The displays and battery capacity are also getting bumps this year. The former is no slouch with battery sipping 1080p resolution, but still affords 120Hz and 1000 max nit capabilities. It stretches 6.4" on the A54 and a bigger 6.6" on the A34. Last generation had almost 2-day battery life, so this year's versions are vying to keep that status by fitting in 5,000mAh cells.
Both phones will be offered in four color options, such as Awesome Lime, Awesome Graphite, Awesome Violet, Awesome White (A54), and Awesome Silver (A34). Europe and SEA markets will get them first in March, with NA getting the A54 in early April. At the moment, it seems like the A34 won't be released in NA. Launch prices for the A54 are expected to be $450 for 6GB RAM and 128GB storage.