Rugged Motorola Defy 2 Is The First Android Phone To Support Satellite Text Messaging
Today's mobile networks are more widely available than ever before, offering high-speed data in some areas that don't even have wired broadband. But terrestrial connectivity might not be enough—satellite communication may be the next big thing with
Apple
,
Google
, SpaceX, and T-Mobile all working to help your phone talk to satellites. Now, UK-based mobile phone manufacturer Bullitt Group has unveiled the first Android device to support satellite messaging.
For most people reading this, the device in question will be marketed as
the Motorola Defy 2
. In Europe, the Middle East, and Africa, that same piece of hardware will get some minor styling changes and a different name: CAT S75. Bullitt builds phones under license, so Motorola and Cat didn't have a hand in the design process. The important thing about the phone, whatever you call it, is that it has the newly announced MediaTek MT6825 chipset, which supports satellite connectivity.
When you attempt to send messages on the new ruggedized Bullitt phones, they will try to connect over cellular and Wi-Fi like all phones do, but it will fall back to satellite communication when those fail. This feature connects to existing geosynchronous satellites using the 3GPP NTN technology standard. That framework supports 2-way messaging, SOS assistance, and location sharing. When you send a message, it arrives on the recipient's phone as a standard SMS, but to reply, they'll need to get the Bullitt Satellite Messenger app. The cost of messages is paid by the satellite-enabled phone owner, with plans starting at $4.99 per month for 30 two-way messages.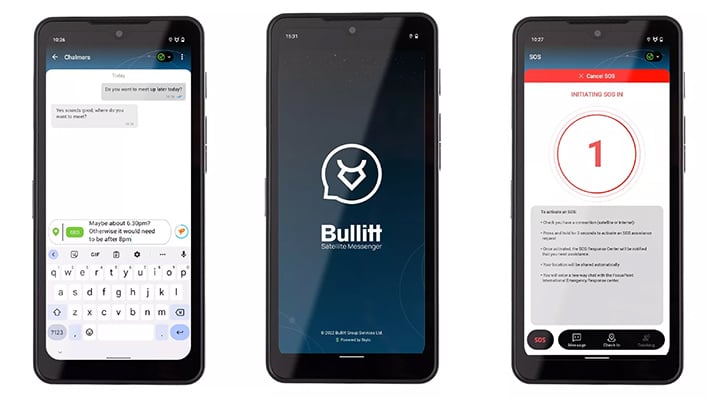 The Motorola-branded phone will sell for $599, putting it squarely in the same budget flagship space. It won't compete directly with the likes of the Pixel 7, though. The phone has a 5,000mAh battery, a 6.6-inch 1080p 120Hz LCD, 6GB of RAM, 128GB of storage, and a Dimensity 930 octa-core processor. The camera setup includes a 50MP primary, an 8MP ultrawide, and a 2MP macro. The front-facing camera is 8MP.
These phones will ship starting in Q2 2023 with Android 12, which is already more than a year old. However, Bullitt promises two major OS updates and quarterly updates for three years. In the two years following, the company says it will continue updating the phones as needed based on threats. The company will also release a Motorola-branded dongle called the Motorola Defy Satellite Link (under the phone above) to add satellite messaging to other phones.