Redfall Release Date Revealed For Xbox, PC And Game Pass, Here's New Gameplay Footage
The "
not like Left 4 Dead
" undead fighting thriller
Redfall,
by Arkane Austin and Bethesda Softworks, has a new trailer we are very excited about. We now know when we'll get to visit the fictional island village of Redfall, Massachussettes, as well as a whole slew of gameplay details.
During the extensive ten-minute trailer, Arkane's Creative Director, Ricardo Bare, points out that this particular location is the largest setting that Arkane has ever built. That's before the deep dive showcase into the game play and world of
Redfall
.
We are treated with an overview of some of the vampires and vampire-bosses we might see in the title, some of which seem to be pretty nasty. A good portion of the gameplay shows the player shooting vampires with traditional weaponry to damage them to a state of incapacitation before swapping to some form of anti-vampire weapon.
There appears to be a variety of ways to deal the final blow. While you won't need it against cultists, or the private military corporation on Redfall, the vampires seem to need a final blow using some kind of stake. For example, there are what look like stake launching firearms, and even a bayonet-style attachment to deal that final blow to the undead menace.
YouTube Gameplay Deep Dive for Arkane Studios' Redfall
Further into the deep dive, we are treated to Studio Director Harvey Smith telling us about random encounters, as well as some gameplay mechanics. He emphasizes that in Arkane's past titles there was always a focus on completing missions in a variety of ways, and
Redfall
seems to be no different. Admittedly, having played some games like this in co-op ourselves in the past, it takes some patience and good communication to pull off stealthy approaches, so make sure you're playing with pals you trust. There even seems to be a territory control element to the title.
Redfall
appears to take inspiration from all over the pop-culture spectrum. The random encounters, territory control, and primary story mission formula reminds us of Ubisoft titles like
Far Cry
or
The Division
. Some of the environments, like "psychic pocket realities," remind us of the upside down in Netflix's
Stranger Things
series.
At the end of the trailer we are told that
Redfall
is aiming to release on May 2, 2023. The game is available in two-flavors for pre-order right now for any of the supported distribution platforms. Those flavors are the $69.99 Standard Edition, which grants you a Level 2 Unrivaled Grim Tide Shotgun, Polar Vortex Multi-Weapon Skin, and Blood Ravager Stake Weapon Attachment. The upgraded $99.99 Bite Back Edition will additionally grant you the game's Hero Pass which includes two future heroes, a laser beam multi-weapon skin, tactical knife stake weapon attachment, northern expedition Devinder outfit, eyes in the dark Jacob outfit, War Clothes Layla outfit, and an Engineer Volunteer Remi outfit.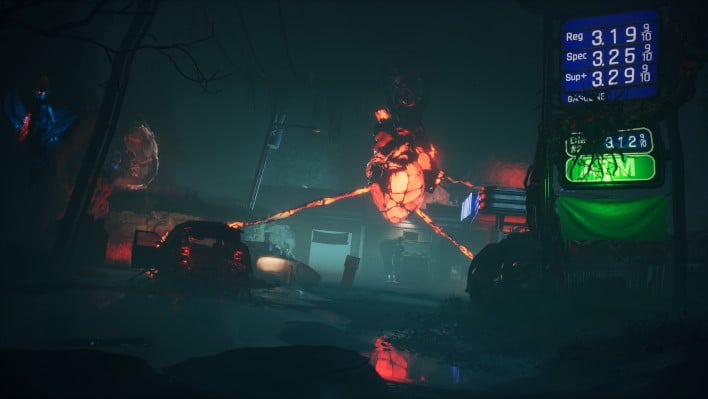 Screen Capture of a heart in a psychic pocket reality in Redfall
This looks to be a very promising title. Having been very enthralled with most of
Arkane
's titles in the past, we're truly looking forward to this one. The game has PC release plans on Windows via the Xbox App or Xbox Game Pass, Steam, and Epic Games Store. It will also be on Xbox Series X|S. Despite reasonable sales numbers on the PlayStation 5 for Arkane's other recent title,
Deathloop
, it does not look like there is a planned PlayStation release for
Redfall
at this time.