Qualcomm Reveals Snapdragon 7+ Gen 2, Offering Premium Features for Mid-Range Phones
Most of the flagship phones launching in 2023 will run a Qualcomm Snapdragon 8-series chip, but some more affordable devices may step down to a 7-series. That doesn't mean this year's budget flagships will be lacking in power, however. Qualcomm has just announced the Snapdragon 7+ Gen 2, the most powerful 7-series mobile platform the company has ever produced. It supports most of the same features as the
Snapdragon 8 Gen 2
, just at a lower price.
The Snapdragon 7+ Gen 2 replaces the Snapdragon 7 Gen 1 from last year -- it's still an octa-core system-on-a-chip (SoC), but this is the first 7-series part with a proper Prime Core design. Whereas the Gen 1 used a regular performance core clocked a bit higher as the prime, the Snapdragon 7+ Gen 2 has a Cortex X2 CPU at 2.91 GHz, delivering improved single-threaded performance. There are still three more performance cores (2.49 GHz) and four efficiency cores (1.8GHz) for a total of eight.
Qualcomm says the new CPU setup delivers a 50% performance uplift compared to the Gen 1, and the new Adreno GPU is twice as fast as the previous-gen, with 13% greater efficiency.
Qualcomm
also claims the GPU has better sustained performance over time, maintaining a 65% performance advantage versus chips from other manufacturers during extended gaming sessions. This chip will also afford new options for price-conscious gamers with support for 1440p displays at 120 fps and aptX audio.
The Snapdragon 7+ Gen 2 also gets an upgrade in the imaging department. The chip's new 18-bit triple ISP can collect up to 4,000 times more data than the 14-bit ISP in the Gen 1 chip — which equates to 3 gigapixels per second, according to Qualcomm. In low-light mode, the Snapdragon 7+ Gen 2's ISP can process 30 individual frames to produce a better-exposed final photo. It supports up to 200MP photo capture with staggered HDR video and the option to capture a triple exposure from two cameras simultaneously.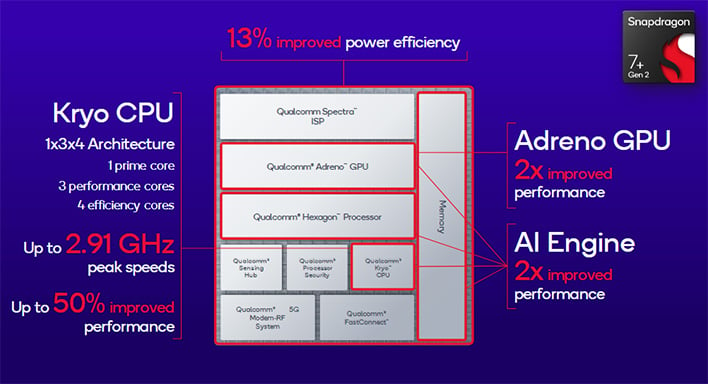 Of course, it wouldn't be a Snapdragon Mobile Platform without a powerful modem. The Snapdragon 7+ Gen 2 includes a Snapdragon X62 5G RF system, supporting up to 4.4 Gbps download speeds. It'll work with both sub-6 and mmWave 5G with frequency aggregation to merge multiple bands for higher overall throughput. Dual SIM phones with this chip will also be able to keep two 5G networks connected simultaneously.
And it wouldn't be 2023 if we didn't talk about AI. Qualcomm is
a leader in AI
, and it eagerly points out that the Snapdragon 7+ Gen 2 has double the AI processing power and 40% better performance per watt versus the Gen 1. It also has AI Super Resolution, which allows upscaling images from 1080p to 4K.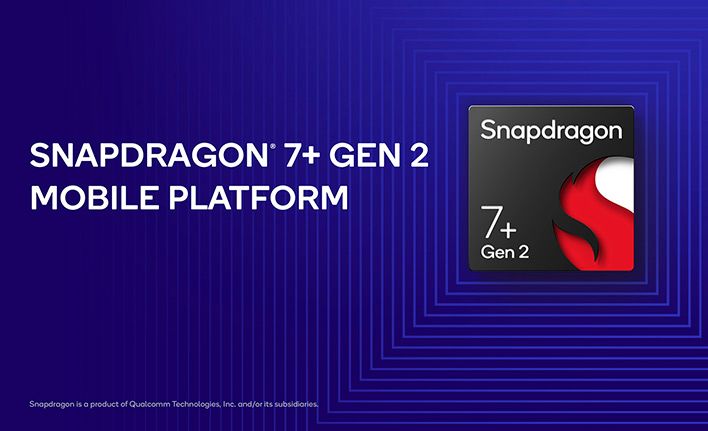 Qualcomm has
deals in the works with multiple OEMs
to launch devices with the Snapdragon 7+ Gen 2 soon. It calls out Redmi and Realme specifically, noting they will have 7+ Gen 2 phones available this very month.
While we wouldn't rule out seeing this chip stateside, you'll see it a lot more in devices destined for Asian and European markets.