When You Can Preorder Sony's Bravia XR A95L QD-OLED TVs With A Huge Brightness Boost
Sony has confirmed pricing and preorder availability for its highly anticipated Bravia XR A95L television lineup, which the company says will offer the "brightest and widest range of colors and hues" of any
OLED TV
it has released to date. Buyers willing to splurge on a flagship TV will able to choose between 55-inch, 65-inch, and 77-inch size options.
By splurge, we mean the starting price is $3,999.99 (MSRP), which gets you the 55-inch model. If you want to pick up the 65-inch model, you're looking at a $4,999.99 sticker price, while the 77-inch model will command $6,999.99. Those prices are firmly planted in the premium end of the spectrum, though to be fair, the Bravia XR A95L could be without equal when it arrives.
"Our brightest ever OLED. With a temperature sensor, high luminance panel and heat diffusion sheet for dissipating heat, this TV detects screen temperature and precisely controls light to deliver 200% as much brightness as its predecessor," Sony claims.
One of the tradeoffs typically associated with OLED TVs is peak brightness, especially when compared to
mini LED technology
, which has started making a spirited push into the marketplace. This can make placement all the more important—if you plan on buying a TV for a room that allows a lot of outside light to seep in, such as a living room with multiple windows, then OLED might not be a great option.
That could change, however, if the Bravia XR A95L series lives up to the hype. The prospect of a big boost in brightness combined with the inherent advantages of OLED technology—deeper blacks and better color reproduction—is certainly tantalizing.
Image processing plays a pivotal role in a TV's overall performance as well. That's been a strength of Sony, and as it applies to the Bravia XR A95L series, image processing chores will be handled by Sony's intelligent Cognitive Processor XR chip.
"Conventional AI can only detect and analyze picture elements like color, contrast and clarity individually. This means that picture element is enhanced to only certain level. But the way we perceive the world is based on all kinds of information coming from our eyes and ears to our brain. Working in the same way, Cognitive Processor XR™ cross-analyzes hundreds of thousands of elements at once," Sony explains.
"One of these elements is the focal point, which can detect where humans tend to focus the most. By cross-analyzing each picture element including focal point, it integrates and adjusts each part to give the picture the most depth and reality," Sony adds.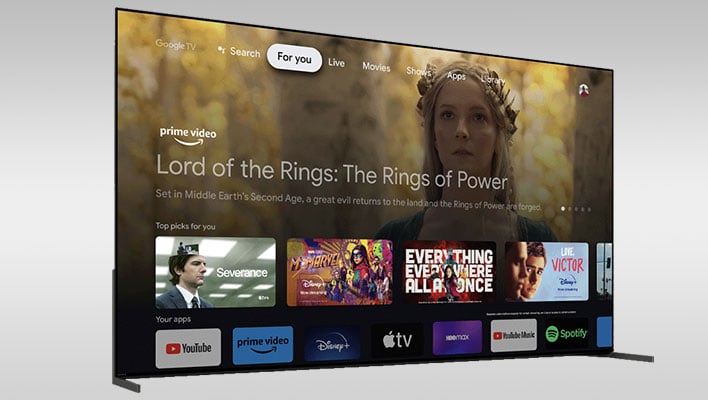 The Bravia XR A95L series also utilizes a Bravia Cam (essentially a webcam) to automatically adjust the picture and sound based the room environment and the viewer's distance to the TV. And of course the camera can be used for video calls, including Zoom.
Other features include a 4K resolution and 120Hz native refresh rate, Google TV platform for smart chores, PS5 amenities like a Game mode to reduce latency and Auto HDR tone mapping, and HDMI 2.1 connectivity, to name a few.