NVIDIA Updates Quake II RTX With Improved Textures, Better Water And Yes, God Rays
Some say you can't improve on a classic, but those people have not seen the latest NVIDIA
Quake II RTX
updates. NVIDIA just released their Quake II RTX version 1.2 which includes improved textures and reflections. They also released a new Game Ready Driver for Halo: Reach.
Quake II RTX version 1.2 features over 400 updated textures. The water in the game is now more realistic includes underwater god rays. There are also no recursive reflections on surfaces like mirrors, better reflections, refractions and god rays through glass, and other general improvements. Real-time ray-traced graphics are even shown on displays like security monitors to make the whole experience more immersive.
According to NVIDIA, Quake II RTX is the first game to be fully path-traced. This ray tracing technique, "unifies all lighting effects such as shadows, reflections, refractions and more into a single ray tracing algorithm." It creates a more realistic and beautiful environment. NVIDIA's Quake II RTX was initially released this past June, but the latest update takes it to another level.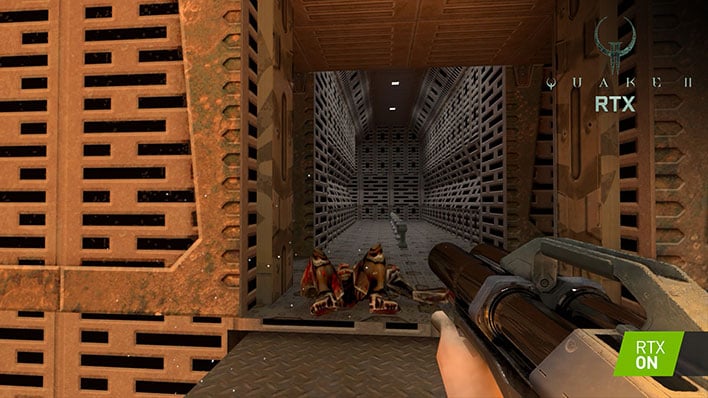 If you already own Quake II RTX, you will automatically receive the update. You can also check out a demo and download the update from the NVIDIA website. Quake II RTX includes the first three single-player levels.
NVIDIA also just released Game Ready Driver for Halo: Reach. The driver adds support for the Quake II RTX update and NVIDIA Control Panel Image Sharpening support for OpenGL and Vulkan games. Image sharpening improves the overall clarity in games. The driver is intended to better users' experiences with the upcoming Master Chief Collection's Halo compilation for PC. The Master Chief Collection for PC will reportedly be available on December 3rd.
NVIDIA has been working hard to bring RTX ray tracing to more beloved and classic games. A recent job advertisement indicated that they are looking for someone to join the NVIDIA Lightspeed Studios team. They did not mention which game the employee would be working on, but many believe that Doom 3 will be the next game to receive the RTX ray tracing treatment. It will be interesting to see what they release next!