NVIDIA GeForce RTX 4090 Ti Or Its Titanic 4-Slot Brethren Allegedly Break Cover
The
GeForce RTX 4090
has no rival at the very top of the Mount Olympus of gaming GPUs, though the same could have once been said about the previous generation GeForce RTX 3090. If history is any indication, though, an upgraded "Ti" model will eventually emerge. As we wait, pictures of the beastly GPU's supposed Founders Edition cooling shroud have found their way to the web, along with some leaked specifications.
Before we get to the upcoming model, let's recap the existing GeForce RTX 4090's specs. NVIDIA's flagship card is based on its AD102 GPU (
Ada Lovelace
) with 16,384 CUDA cores, 512 texture mapping units (TMUs), 176 render output units (ROPs), 512 Tensor cores, 128 RT cores, 72MB of L2 cache, and 24GB of GDDR6X memory (21Gbps) linked to a fat 384-bit memory bus. The card's rated power draw is 450W, with a maximum power limit of 600W.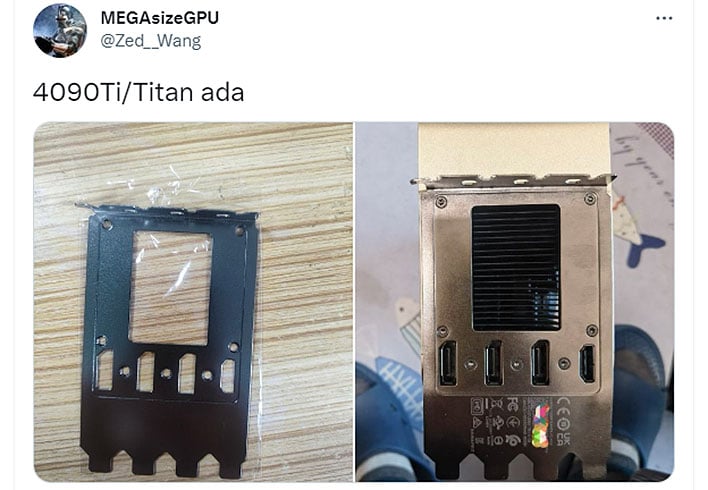 It sits at the top of the GPU heap, but perhaps not for long. Pictures of a supposed Founders Edition cooler design for a GeForce RTX 4090 Ti or Titan card have broken cover. Assuming they're real—and some prominent leakers say they are—this card will occupy four PCIe slots due to its massive girth.
MEGAsizeGPU posted a couple of pictures on Twitter, as shown above, to which notable leaker @harukaze5719 commented, "Confirmed. Nice job!," complete with a heart-filled smiling emoji.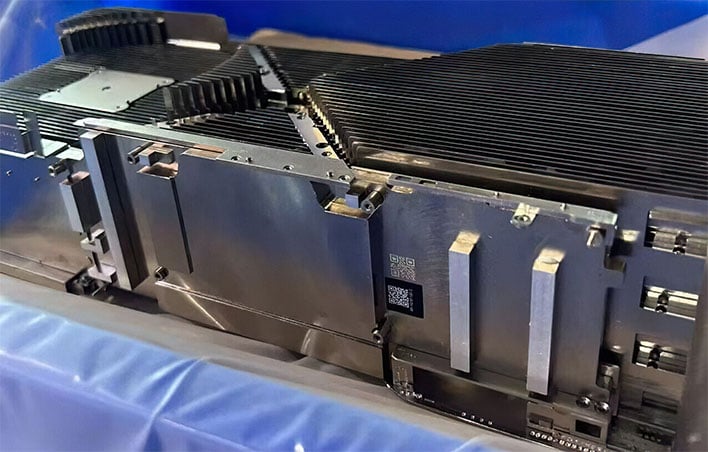 Source: Chiphell via @9550pro
The fresh set of photos follow some slightly older ones that were posted to Chiphell back in October. That post has since been removed, though they
remain uploaded
to Twitter courtesy of @9550pro, another popular leaker in the Twittersphere.
There's some debate over whether the upcoming card will be billed as a GeForce RTX 4090 Ti or if it will revive the Titan branding. According to
@kopite7kimi
(yet another reputable Twitter with a nose for sniffing out leaks), NVIDIA is working on a GeForce RTX 4090 Ti (PG136/139-SKU310) with 18,176 CUDA cores, 96MB of L2 cache, and 24GB of GDDR6X memory (24Gbps), with a max power draw also set at 600W.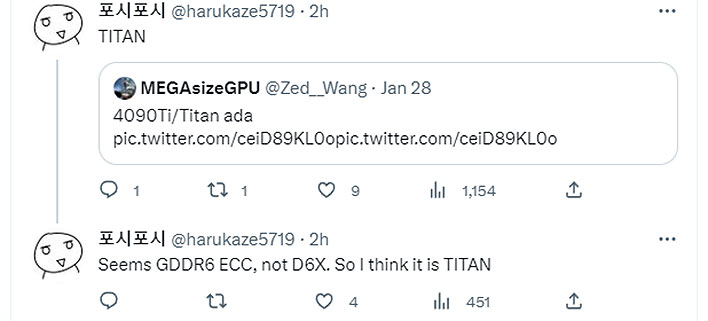 Meanwhile, @harukaze5719 reckons NVIDIA's next flagship card will actually debut as a Titan part with GDDR6 memory supporting error correcting code (ECC), rather than a GeForce RTX 4090 Ti with GDDR6X memory chips. Either way, if the leaked photos and other rumored specs are any indication, this is going to be absolute beast for both gaming and content creation chores.
As for pricing, we can only guess at this point. The GeForce RTX 4090 carries a $1,599 MSRP, so a Ti or Titan model will obviously be somewhere north of that (barring a round of price cuts). NVIDIA's also been known to throw last-minute curveballs, in terms of the specs and features, so we'll have to wait and see what actually emerges. We could be looking at a $1,999 or even $2,499 MSRP.