NVIDIA Explains Why G-SYNC Ultimate Displays Now Won't Need To Hit 1000 Nits
Over the past few days, it was noticed that
NVIDIA
has made some changes to its marketing materials about what qualifies as a
G-SYNC
Ultimate display. It was previously assumed, based on the company's own wording, that a display needed a dedicated NVIDIA hardware module, HDR support, and a brightness rating of 1,000 nits (among other requirements like low latency and high refresh rates).
It was the 1000-nits spec for brightness that had been nixed from NVIDIA's specifications for G-SYNC Ultimate, which raised eyebrows. There was plenty of speculation as to why NVIDIA would make such a move, but the company looked to clear the air with an official statement to OC3D.
While the original G-SYNC Ultimate displays were 1000 nits with FALD, the newest displays, like OLED, deliver infinite contrast with only 600-700 nits, and advanced multi-zone edge-lit displays offer remarkable contrast with 600-700 nits. G-SYNC Ultimate was never defined by nits alone nor did it require a VESA DisplayHDR1000 certification. Regular G-SYNC displays are also powered by NVIDIA G-SYNC processors as well.
According to NVIDIA's statement, it was never a set-in-stone requirement for G-SYNC Ultimate displays to support VESA Display HDR 1000. And while NVIDIA had also proudly made a big deal about Full Array Local Dimming (FALD), this too was not a hard requirement for G-SYNC Ultimate. Instead, NVIDIA is now making the point that newer PC display technologies that are filtering down to enthusiasts -- like OLED panels -- are able to achieve the peak gaming experience that it set to create for gamers without the need to hit 1000 nits.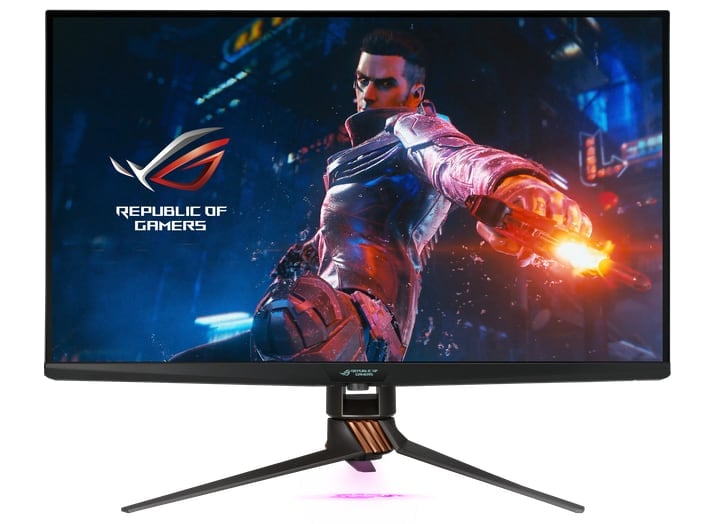 ASUS PG32UQX Mini-LED G-SYNC ULTIMATE Gaming Monitor
In fact, most PC-centric OLEDs can't come close to matching that 1000-nits figure, but they still are able to provide world-class HDR performance, contrast, and color reproduction. So many are probably asking, has NVIDIA actually downgraded the specs for G-SYNC Ultimate? Technically, the answer is "yes" since the 1000-nits spec has been nixed, but given that OLED displays can get by with far less, we'd say that this is a good change overall to be more inclusive of all available display technologies.
Look at the difference between this page (https://t.co/xbQ0rQDuQn) now vs. all the way back in... November 2020. Subtle removal of reference to 'Best HDR 1000 nits' and changed to 'Lifelife HDR' - without telling anybody. pic.twitter.com/mayHvebhfQ

— PC Monitors (@pcmonitors) January 17, 2021
The reason why this is even a "controversy" at all is due to NVIDIA's announcement last week of three new monitors that were listed as G-SYNC Ultimate certified: the ASUS PG32UQX, MSI MEG381CQR, and LG 34GP950G. While the ASUS hit 1400 nits, the latter two displays were "only" HDR 600 rated. Given NVIDIA's previous marketing on G-SYNC Ultimate, someone was bound to hit the rewind button to try to figure out what was going on...