Next-Gen Ford Focus RS To Be A Hybrid Beast Pushing 400+ Horsepower
The current-generation Ford Focus RS is a car that performance enthusiasts love. This was the car that performance fans missed the most when Ford discontinued all of its passenger cars in the United States other than the Mustang. While Americans may never see it, Focus RS fans in Europe will get a new model to enjoy, and it sounds as if the car will be a beast.
The most significant change for the Focus RS is that it is expected to be a 400hp+ hybrid car. Ford is betting big on hybrid vehicles, promising electrified versions of all of its vehicles, with most of them being hybrids. Ford and Lincoln have also positioned their hybrids for performance rather than efficiency.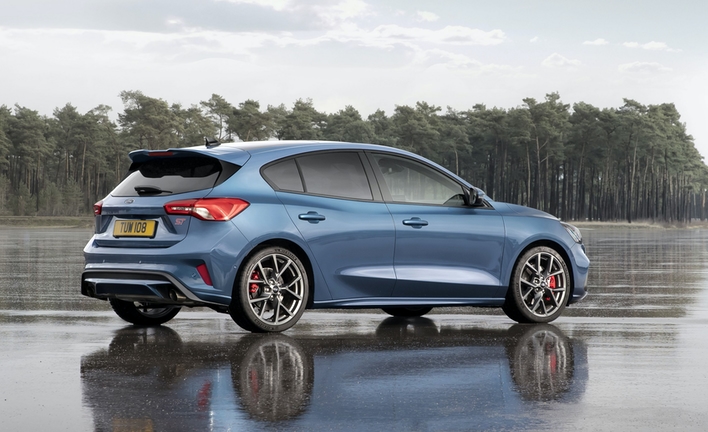 The new Focus RS will remain an all-wheel-drive car. It will reportedly use GKN's e-Twinster electric four-wheel drive that will power the rear wheels by electricity alone. The front wheels will be driven by a 400hp mild-hybrid gas engine. The car will reportedly use a 48V integrated starter-generator that will give the car a boost of electric power at low RPMs. Presumably, that will allow Ford to use a larger turbo for more high-end power with the electric drive making up for the turbo lag as the larger turbo spools.
The engine, according to Car Magazine, will be a 2.3-liter EcoBoost four-cylinder. The outgoing RS produces 370hp and 376 pound-feet of torque when tuned by Mountune, while the stock 2015 Focus RS made 350hp. That means the production car will have the potential to be faster than a tuned outgoing Focus RS. Ford did this when it rolled out the 5.0-liter V8 back in 2011 for Mustangs. The stock 5.0L V8 had more power than supercharged 2010 cars with the 4.6L V8.
The performance potential of the next-gen Focus RS makes us sad that the United States won't even get a chance to sample it. But you can blame that lack of options here on America's thirst for crossovers.