Qualcomm's New Snapdragon X75 5G Modem Elevates 5G Connectivity With Machine Learning
Qualcomm has introduced its latest
Snapdragon
X75 5G modem-to-antenna solution that boasts a host of features and improvements, such as smarter signal management, better carrier aggregation and connectivity via enhanced AI resources and processing.
The Snapdragon X75 5G offers the world's first 5G modem architecture with a dedicated hardware tensor cores for accelerating machine learning workloads. Part of the touted advantages to the new AI optimization is increased speeds, connection reliability, and coverage, while also bringing sensor-assisted mmWave beam management and
GNSS
(Global Navigation Satellite System) for better accuracy. Like Qualcomm's previous generation X70, Snapdragon X75 also brings AI-based channel state feedback and optimization, AI-based mmWave beam management, AI-based network selection and AI-based Signal Boost adaptive antenna tuning.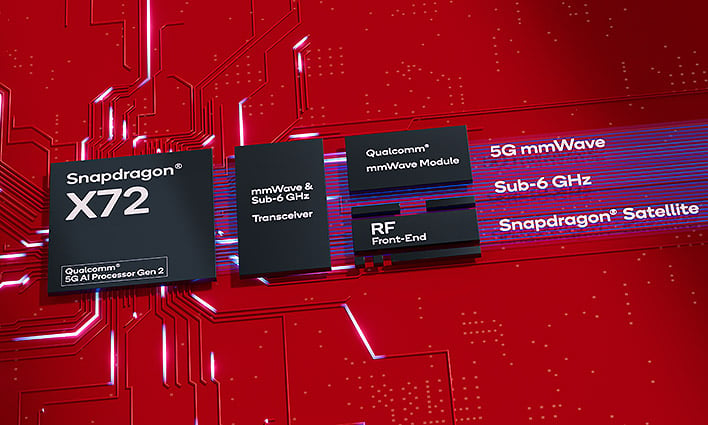 Another big feature drop is that the X75 has the first 10-carrier convergence (256 QAM) of mmWave and Sub-6 bands, which is supposed to increase 5G spectrum aggregation. Qualcomm says this now brings up to a 5x carrier aggregation downlink for sub-6 bands and 5G FDD (frequency division domain) uplink MIMO for "superior 5G speeds."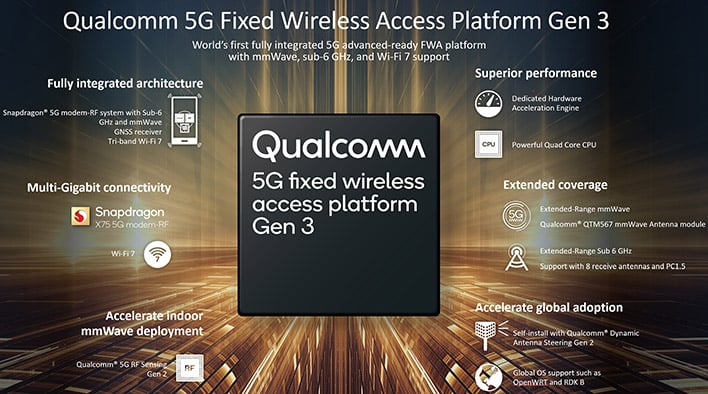 Moreover, the new Snapdragon modem is first-of-its-kind with a single transceiver physical layer that supports both mmWave and Sub-6 bands, and also comes in a smaller footprint (by up to 25 percent compared to the previous generation X65), that is cheaper to produce, offers less board complexity and real estate, and is more energy efficient (up to 20 percent less). Additionally, the gen 2 AI processor is claimed to deliver 2.5 times improved performance and connectivity. With these improvements, Qualcomm is hoping to penetrate more industries apart from smartphones, and mobile broadband, such as automotive, industrial IoT, Fixed 5G Wireless broadband access and 5G private networks.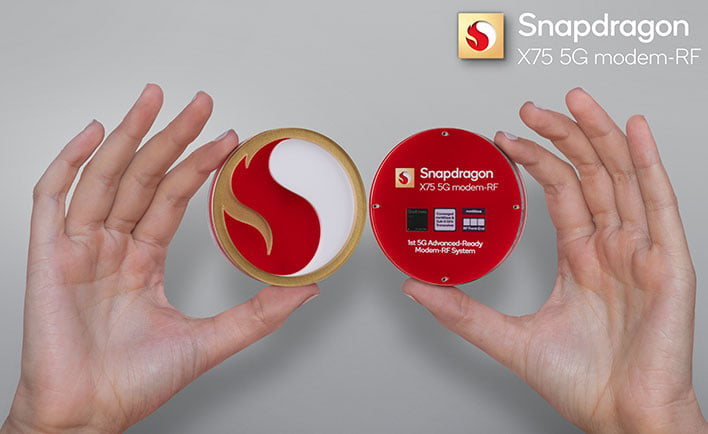 Qualcomm is quite proud of its X75 5G modem achievements and features. Durga Malladi, Qualcomm's senior VP and GM of cellular modems and infrastructure notes that the, "Snapdragon X75 Modem-RF System demonstrates the full breadth of our global 5G leadership, with innovations such as hardware accelerated AI and the support for
upcoming 5G Advanced capabilities
, which unlock a whole new level of 5G performance and a new phase in cellular communications."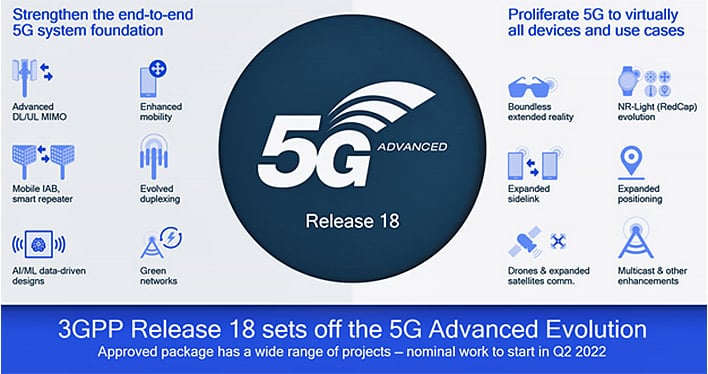 Qualcomm's Snapdragon X75 is currently being sampled to vendors, with commercial devices expected by the second half of 2023. Qualcomm says that you can find out more about the product at its
dedicated site
, as well as at the upcoming Mobile World Congress in Barcelona.