See How NBA 2K20 Is Honoring Basketball Legend Kobe Bryant After His Tragic Death
The sports world is reeling from the tragic loss of NBA legend Kobe Bryant, his 13-year-old daughter Gianna, and seven other people who perished over the weekend when a helicopter they were riding in crashed into a hillside in Calabasas, California. It doesn't matter if you are religious or an atheist, a basketball fan or are not into sports all—this unfortunate loss reverberates people from all walks of life. In the wake of it all,
NBA 2K
and its fans are doing their part to heal and honor the former Lakers superstar who elevated the sport of basketball and inspired a generation of players to pursue their dreams.
It hurts to write about this. I've been a basketball fan probably since the womb, and have enjoyed the intense rivalry between my beloved Boston Celtics (I was born near Boston) and the Los Angeles Lakers over the years. The rivalry and all that comes along with it does not exist without players like Kobe, because their tireless work ethic and passion for the sport is what made the teams they played on so enormously great.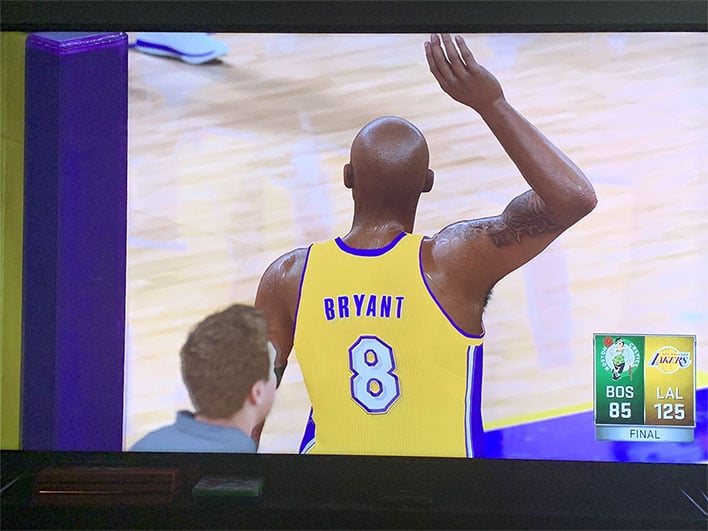 It may seem like a minor thing, but
video games
can be cathartic during these times. I was barely a teenager when Ervin "Magic" Johnson announced he had contracted HIV and was retiring from the NBA. Shell shocked, I fired up Lakers vs Celtics on my PC and did something I had never done before—I played as the Lakers and beat my Celtics. Badly. Sadly, so many years later, I felt compelled to honor another Lakers legend in similar fashion, this time in NBA 2K18, scoring 60 points with Kobe (I stopped shooting with him at that point because it felt like a proper send off), along with nabbing 9 rebounds, 21 assists, and 5 steals. Final score: Lakers 125, Celtics 85.
I am not the only one finding some bit of solace in playing games. The developers of the NBA 2K series made a tribute to the superstar in the latest version, NBA 2K20...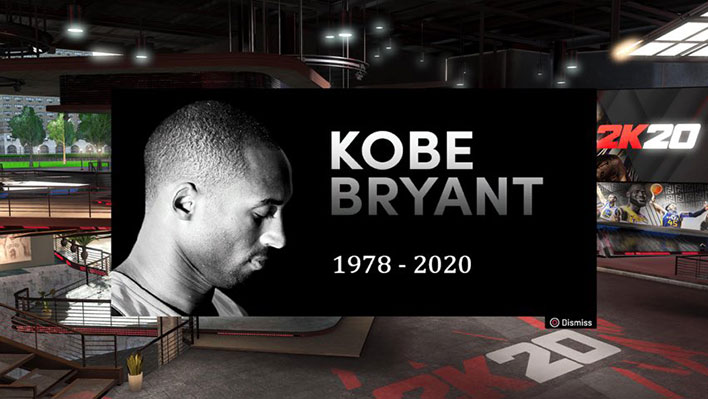 Source: NBA 2K20 via Barstool Gametime (Twitter)
Shown above is the login screen for NBA 2K20. Kobe was only 41 years old when he perished and just beginning the next chapter in his life. His daughter, "Gigi," was on the path to becoming a basketball legend herself, following in her father's footsteps. The bond between a father and his daughter makes this tragedy even tougher to swallow, and is one of the reasons why the pain transcends sports.
I have to tip my hat to NBA 2K for giving us something, anything, to pay respects to one of the greatest basketball players to ever lace up his sneakers.

"RIP to a Legend. Thank you for your many contributions on and off the court. You are greatly missed," NBA 2K wrote on Twitter.
And then there's this tweet by @beeniicole of a video showing NBA 2K20 players united in Lakers gear...
What makes this even more heartbreaking is the reason why Kobe routinely flew in a helicopter in the first place. It was to free up even just small amounts of time to spend with his family by avoiding brutal LA traffic.
"I had to figure out a way where I could still train and focus on the craft but still not compromise family time," Kobe told Barstool Sports in 2018. "And so that's when I looked into helicopters."

"My wife was like, 'Listen, I can pick [the kids] up.' I'm like, 'No, no, no, I want to do that,' because, like, you have road trips and times where you don't see your kids, you know. So every chance I get to see them and spend time with them, even if it's 20 minutes in a car, like, I want that," Kobe added.
Kobe and his daughter were not the only ones to perish, of course, but for obvious reasons they dominate the headlines. John Altobelli, the longest-tenured baseball coach in Orange Coast College history, along with his wife Keri and daughter Alyssa died in the crash as well. So did Christina Mauser, the top assistant coach of the Mamba girls' basketball team who also led clinics for WNBA players. Kobe's flight teacher Ara Zobaya was another fatality. Sarah Chester and her daughter Payton, who had played with Kobe's Mamba team, were on the helicopter as well and lost their lives.

From all of us at HotHardware, our hearts, thoughts, and prayers go out to the family members and friends of everyone who lost their life in the crash.