My Arcade Unveils $99 Atari Gamestation Pro Console With Over 200 Retro Games
My Arcade is teaming up with
Atari
to launch the Atari Gamestation Pro, a sleek console with hundreds of delightfully retro games built in, made easily playable on modern TVs and monitors. Obviously there have been multiple attempts to capitalize on Atari nostalgia, though according to My Arcade, this is the first console to infuse Atari 2600, 5200, 7800, Arcade, and bonus games into a single platform.
"We've meticulously blended the best of the past with the cutting-edge technology of today," David Cox, Chief Revenue Officer at My Arcade, said in a statement. "This isn't just a gaming console; it's a journey back in time, wrapped in the convenience of the present."
Most of the classics you may remember playing from a much earlier era are present and accounted for, including Adventure, Asteroids, Centipede, Missile Command, Pong, Super Breakout, Tempest, Yar's Revenge, and many others. The full list spans over 200 officially-licensed classic titles, all ready to plug and play on your big screen TV.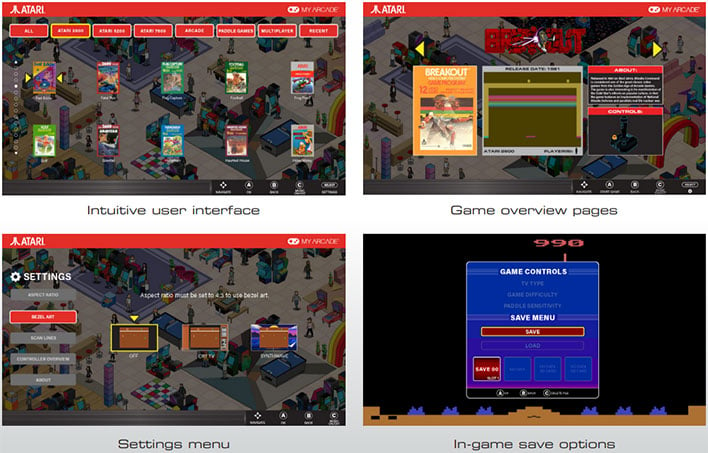 Whether the games live up to your memories of playing them is another matter. One thing I've realized as the decades keep piling on is that once the rose-colored glasses come off, many of those
Atari 2600
games I recall playing as a kid are not quite as glorious in the modern era.
Where the Atari Gamestation Pro holds some appeal, however, is in making so many retro games accessible, both in terms of updated features and pricing—it's available for $99.99 and comes with the console, baked in games, and dual 2.4GHz joysticks (each of which requires 4 AA batteries) with integrated paddles and three sensitivity settings.
Like most modern hardware, the Atari Gamestation Pro connects to your display via HDMI. It also features USB-C connectivity to draw power, dynamic RGB lighting, onboard memory to accommodate a pair of save slots, and a microSD card slot.
It looks like a promising console for anyone harboring nostalgic feelings for the early Atari-era games, and it's a fair-bit cheaper than the Atari VCS. However, it also faces competition from Atari game libraries like
Atari 50: The Anniversary Celebration
, which is available for $39.99 on Steam or
$29.99
for the Xbox Series X, PlayStation 5, or Nintendo Switch.
EDIT: A day later, Amazon's listing for the Atari Gamestation Pro still errors out. However, you can preorder direct from My Arcade, linked above.