Museum Offers $25K Reward For Meteorite Frags After A Fireball Scorched The Skies
A $25,000 reward is being put out for whoever finds a chunk of a meteor that lit up the sky over Maine around noon last Saturday. Finding it could prove quite challenging, though.
A rare event woke the town of Calais, Maine on Saturday April 8 at around 11:56 a.m. Residents were treated a bright red fireball streaking across the sky accompanied by thunderous booming noises and vibrations. NASA tracked what is now presumed to be a falling
meteor
for about five minutes, after which it broke up over an area above Calais and possibly into bordering Canada.
The fact this meteorite was so visible at this time of the day is a big deal. In an interview with
Machias Valley News Observer
, Shawn Laatsch, director of the Versant Power Astronomy Center at the University of Maine in Orono said that, "if it's visible in the daytime, it's usually a large meteor that hits that atmosphere and lights up." Laatsch thinks that what witnesses had seen was a large bolide meteor, which is just the technical term for a really bright and audible meteor.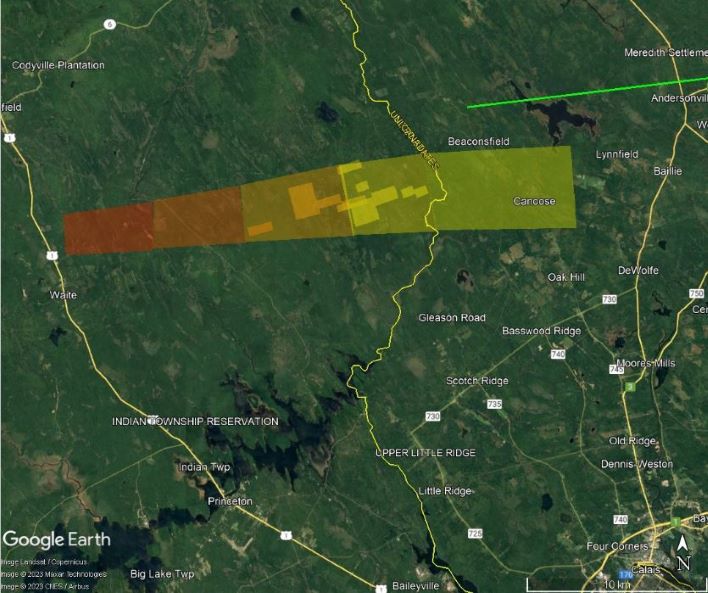 Due to its rarity and significance, the Maine Mineral and Gem Museum in Bethel Maine is offering to sweeten the pot for souvenir hunters. Those who happen onto (or are out hunting for) those meteoric fragments along its debris field are being offered $25,000 for their efforts. There are some caveats, of course: the reward is only for specimens 1 kg or greater, the museum will need to test the specimen(s) for authenticity, and upon approval, the $25K reward will only apply to the first kilogram. The
museum posting on Facebook
also seems to imply that the testing cost needs to be fronted by the submitter.
For those wanting to join in the hunt, NASA has a
step-by-step guide
on finding meteorites. The debris field is suspected to be around a mile wide, stretching from Waite, Maine, into Canada in the town of Canoose, New Brunswick. So far, no pieces have been reported.