Microsoft Previews Windows Copilot AI Assistant, How To Try It Out
Microsoft is all-in with generative AI. After adding
ChatGPT
to Bing, Microsoft announced at the Build conference in May that
the AI tool was coming to Windows 11
as "Copilot." Now, the first version of Copilot is rolling out. However, it won't arrive on the version of Windows 11 most people are using. If you want an early sneak preview of Copilot, you'll have to be part of the Windows Insiders program.
Copilot is rolling out in the Insiders Dev Channel,
starting with Windows Build 23493
. You can open Copilot by clicking the taskbar shortcut or hitting Win+C. Copilot eats into your screen real estate with a persistent sidebar, but it won't cover your windows—everything should just move out of the way.
Copilot is powered by the same optimized Bing Chat AI agent as the search on Bing.com. So, you can ask it complex questions and have it generate text based on whatever criteria you can devise. However, Copilot has new capabilities tied to Windows itself. It's aware of the windows you have open, so you can ask it to summarize a tab in Edge or change the settings in a Word document. It also connects to Windows' core settings, allowing for control of features like Do Not Disturb and dark mode via text commands.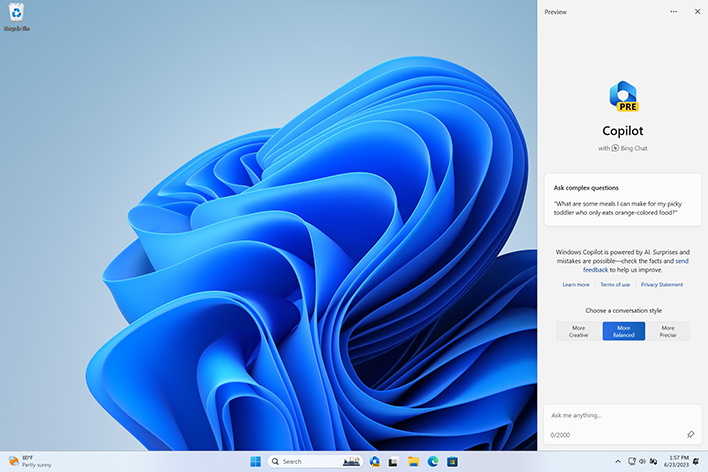 Microsoft includes a prominent warning in Copilot about possible "surprises and mistakes" in generative AI. The Insiders program will help Microsoft refine Copilot, but it won't be able to fix AI hallucinations. No one has cracked the code on that, although there are many efforts underway to make these tools more reliable.
In addition to Copilot, the latest preview build of Windows 11 includes a reorganized settings app with suggested actions, better app restore after resetting a PC, and more. If you want to check out the latest build with Copilot and the other goodies, you can join the program under Settings > Windows Update > Windows Insider Program. Remember, you'll have to be in the Dev Channel to get the first Copilot preview.