Microsoft Bans Unofficial Game Controllers And Accessories On Xbox Console
Much to the dismay of gamers who own certain third-party controllers and peripherals, Microsoft has begun actively blocking unauthorized accessories on its
Xbox Series X
and Xbox Series S game consoles. If you own an affected product and try using it with your Xbox console, you may run into error code 0x82d6002, which means your device is banned.
Microsoft explains the error message in a new support document. In no uncertain terms it means that "one of the accessories you're trying to connect was not manufactured by Microsoft or another licensed Xbox hardware partner." Should you find yourself in this situation, the only resolution Microsoft provides is to contact the maker of your blocked peripheral "to get help with returning it."
You'll have a couple of weeks to do that upon first receiving the dreaded error message. According to the support document, you'll be able to use the banned device for two weeks after after receiving error code 0x82d60002. After that grace period elapses, your Xbox console will block it outright and you'll receive a separate error code, 0x82d60003.
"Microsoft and other licensed Xbox hardware partners' accessories are designed and manufactured with quality standards for performance, security, and safety. Unauthorized accessories can compromise the gaming experience on Xbox consoles (Xbox One, Xbox Series X|S). Gamers may receive a pop-up warning that their accessory is unauthorized, and eventually the unauthorized accessory will be blocked from use to preserve the console gaming experience," Microsoft explains.
Even if you don't see the initial error code right away, you're best served by double-checking whether or not it's an official accessory. Otherwise, you could find yourself outside the retailer's and/or manufacturer's return window. To see if it's official, look for an Xbox button on the face or the controller or an Xbox logo between the left and right triggers.
You can also cross-reference your device with Microsoft's online catalog of official peripherals, which includes third-party devices from the likes of Hyperkin, KontrolFreak, PowerA, Razer, Thrustmaster, Turtle Beach, Victrix, and others.
"The Designed for Xbox program also offers a wide variety of licensed and approved accessories from more than 50 major gaming brands. Look for the Designed for Xbox badge to identify official accessories," Microsoft adds.
It's not entirely clear why Microsoft is suddenly banning unauthorized peripherals. One possible explanation is that it's looking to crack down on cheating. For example, devices like the Xim Matrix and Cronus Zen can bring the benefits of aim assist to keyboard and mouse controls, which in turn gives gamers a massively unfair advantage.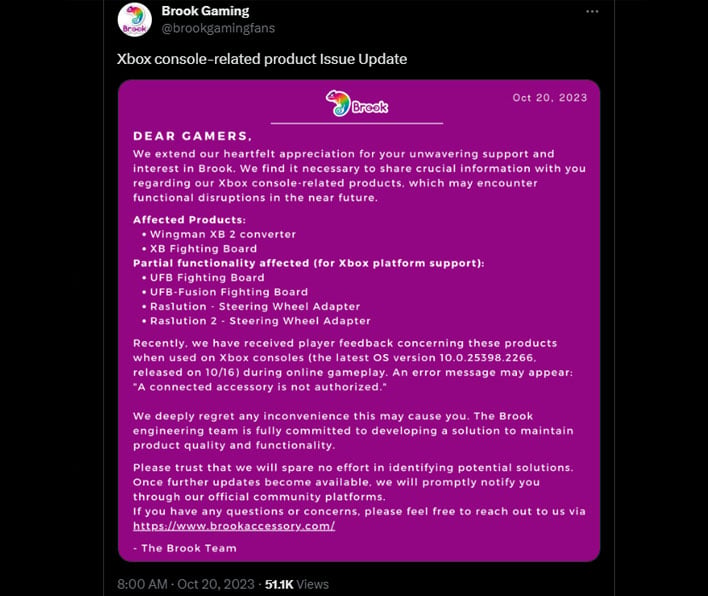 In a post on X, Brook Gaming confirmed that some of its devices are affected, including one that enables using a PlayStation controller on Xbox.
"We deeply regret any inconvenience this may cause you. The Brook engineering team is fully committed to developing a solution to maintain product quality and functionality," the device maker stated. "Please trust that we will spare no effort in identifying potential solutions. Once further updates become available, we will promptly notify you through our official community platforms."
It remains to be seen what exactly Brook Gaming and other companies in the same situation can realistically do, other than working out a licensing deal with Microsoft or working with customers on refunds or exchanges. In the meantime, buyer beware.