Lexar Demos Blazing Fast 7GB/sec PCIe 4.0 NVMe SSD For Gaming Rigs
The PCIe 4.0 era is amongst us, primarily [for consumers] thanks to the arrival of AMD's Ryzen 3000 processors and
X570
motherboard platform. Up until now, we've seen a number of PCIe 4.0 consumer SSDs arrive with read/write speeds topping out at
around the 5GB/sec mark
. However, Lexar has been demoing a new
PCIe 4.0
SSD that is raising the bar for all other manufacturers.
PCIe 4.0 SSDs released up until to this point use the Phison's PS5016-E16 controller. However, Lexar's new 4x4 NVMe prototype SSD is already delivering sequential reads of 6.2GB/sec along with sequential writes of 4.2GB/sec. Unfortunately, Lexar isn't divulging details on what controller is being used for this new, unnamed SSD, but representatives speaking to The SSD Review indicate that it isn't made by Marvell and "isn't from any of the big name manufacturers."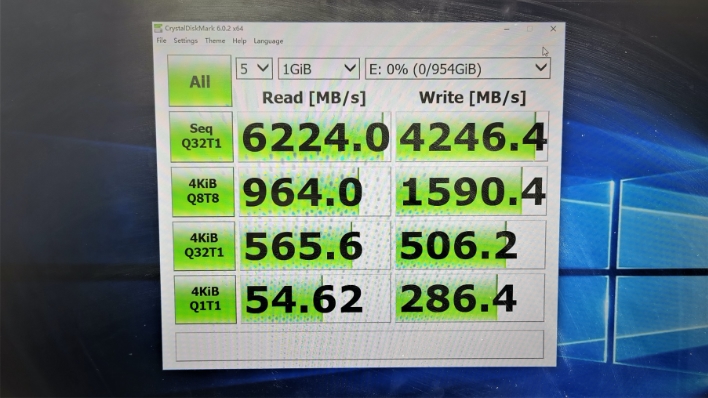 When the SSD actually is released for Q2 2020, Lexar says that the SSD should be rated for 7GB/sec reads and 4GB/sec writes. As for available capacities, Lexar says that it will be producing 512GB, 1TB, and 2TB SSDs using 96-layer 3D TLC NAND flash. We also know that it will be using the NVMe 1.4 protocol, a 12nm controller, and will feature LDPC ECC for enhanced data protection. The particular prototype on display has a green PCB along with a surf board-esque heatsink with the Lexar name emblazoned on top.
That is no doubt an impressive showing from Lexar, and offers up just a tiny preview of what we can expect from the SSD field in 2020.

(Images in this article courtesy The SSD Review)