Leica's Luxury Cine 1 Laser 4K Projector Pricing Revealed For A Spring Launch
We've been intrigued by
Leica's entry into the home cinema market
ever since it unveiled plans four months ago to make a splash with its first-ever laser projector, the Cine 1. At the time, Leica offered up some preliminary information, noting that the Cine 1 wields "unique triple RGB technology" to deliver bright and "breathtaking" images. Now as the Consumer Electronics Show is underway, Leica has revealed a bit more, including pricing and a general time frame for the projector's release.
Leica, as many are familiar with, is a recognizable brand in the realm of photography. The 154-year-old German company offers a range of luxury cameras and optical lenses, among other products, and is often used as a selling point by a small number of
smartphone manufacturers
when incorporating the company's camera sensors into their handsets—Xiaomi in particular, after
partnering with Leica
last year.
For its first home cinema product, Leica says it is using its own image pricing (Lecia Image Optimization, or LIO) along with special algorithms to optimize the Cine 1's picture quality. According to Leica, viewers can expect natural color reproduction and detail color gradations, along with an excellent contrast transfer.
There are two models being offered, one of which can beam images up to 100 inches while the other is capable of throwing 120-inch images. The specifications are otherwise the same from what we can glean, including the direct triple-laser RGB makeup, 2,000,000:1 dynamic contrast ratio, and a claimed service life of over 25,000 hours.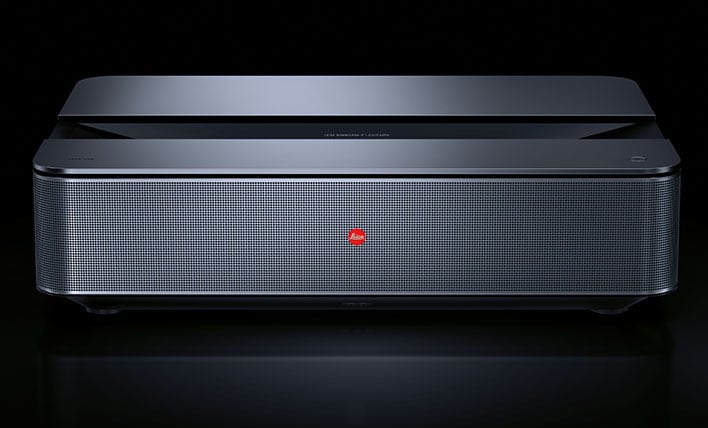 Leica's also touting fairly robust connectivity options consisting of...
2x HDMI 2.1 (1x eARC support)
1x HDMI 2.0
2x USB (1x USB 2.0, 1x USB 3.0
1x RJ45 (Ethernet)
1x antenna-in (RF tuner)
1x Optical (Toslink)
1x earphone/audio out
From the renders we've seen, the Cine 1 is a sleek-looking, short-throw projector. It sports a silver aluminum body with a slim, automatic dust cover, and perforated plates on the front and sides for better audio output and ventilation.
Why jump into the home cinema market now? Simply put, Leica is hoping to claim a piece of a potentially lucrative pie by leveraging its
experience in optics
.
"In the future, optical expertise will become a key success factor in the TV market, the largest consumer electronics market in the world with over $100 billion in annual sales. I am therefore proud that, in cooperation with our strategic partner and on the basis of our world-leading optical expertise, we have succeeded in creating an extraordinary product with the Cine 1: 'Optical high-tech meets design.' With the Cine 1, consumers can experience cinematic pleasure in the comfort of their own homes at the highest audio visual level—cinema is coming home," says Matthias Harsch, CEO of Leica Camera AG
It will be interesting to see how the Cine 1 performs compared to competitive offerings from the likes of BenQ, LG, and others. That said, it's not a cheap projector by any means—pricing for the 100-inch model is set at $8,295 with availability coming this Spring. Leica didn't say how much the 120-inch model will cost, but it will obviously more than the 100-inch version.