Kioxia BG6 Series SSDs Raise The Bar For Affordable Mainstream Storage Performance
Kioxia is expanding its growing lineup of PCI Express 4.0 solid state drives with the addition of the BG6 series. These are Kioxia's first SSDs to feature the company's 6th generation BiCS Flash 3D triple-level cell (TLC) memory, which enables an almost 1.7 times performance uplift over the previous generation
BG5 series
. And like its predecessor, the BG6 takes aim at faster, affordable storage to a mainstream audience.
The BG6 series will be available in 256GB, 512GB, 1TB, and 2TB capacities. Kioxia will offer the lineup in both the standard M.2 2280 form factor, which is around the size of a stick of a bubble gum, and the more compact M.2 2230 form factor (which goes up to 1TB). While not mentioned in the press release, the M.2 2230 form factor means it's a candidate for systems like
Valve's Steam Deck
console.
As is often the case, performance here varies by capacity, and also by form factor. The M.2 2280 drives top out at up to 6,000MB/s for sequential reads and 5,300MB/s for sequential writes, along with up to 850,000 IOPS for 4K random reads and 900,000 IOPS for 4K random writes.
Meanwhile, the compact M.2 2230 drives scale to 3.500MB/s for sequential reads, 2,900MB/s for sequential writes, 500,000 IOPS for 4K random reads, and 450,000 IOPS for 4K random writes.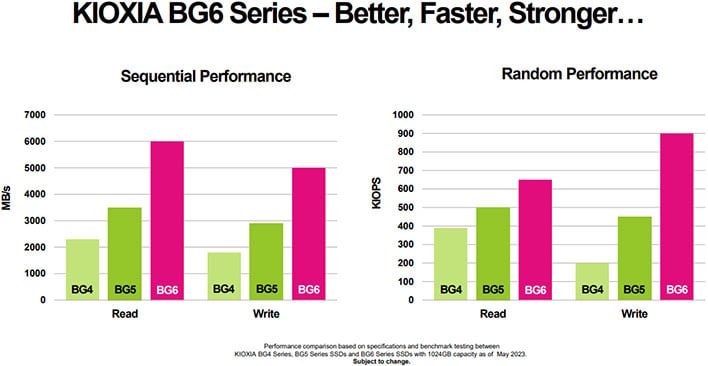 Source: Kioxia
Compared to the previous generation BG5 and BG4 series SSDs, the latest addition to Kioxia's mainstream client SSD portfolio amps up performance across the board. This is especially notable in 4K random write performance—the BG6 series is around twice as fast as the BG5 series, and more than four times faster than the BG4 lineup.
"Next generation storage for commercial and personal mobile computing applications needs to keep pace with consumer demand for ultra mobility without compromise," said Neville Ichhaporia, senior vice president and general manager of the SSD business unit, KIOXIA America, Inc. "Our new KIOXIA BG6 SSDs deliver increased performance and density in a small footprint, making them well-suited to today's 'work and play from anywhere' lifestyle."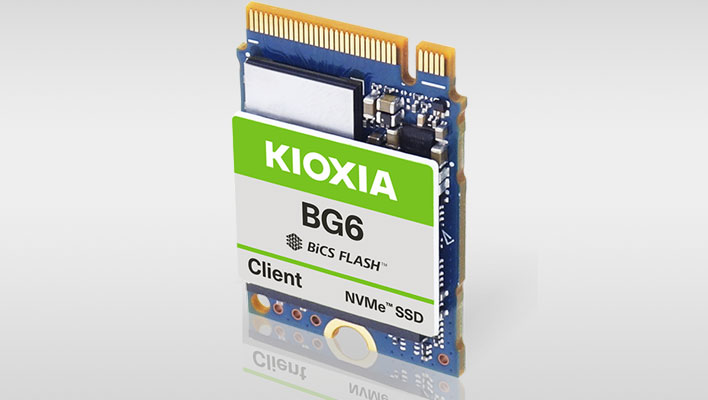 Part of the balance between performance and pricing comes from making these DRAM-less drives, just like
Western Digital's Black SN770
, Samsung's 980 (non-Pro), and various others. Instead of having DRAM cache bolted on (and the expense that goes with it), the BG6 series support what's now a "fully matured" host memory buffer (HMB, not to be confused for HBM, or high bandwidth memory) technology infused in the NVMe specification.
What this does is utilize a small portion of your system's main DRAM as a bucket of write cache. There's a latency hit compared to onboard DRAM, but the overall performance disparity has improved over time.

As to exactly how affordable the BG6 series will be, we'll have to wait a little bit longer to find out. Kioxia is showing off its latest SSDs at the Dell Technologies World event this week and will begin sampling the
BG6 series
to OEMs in the second half of this year.