HP Debuts Victus 16 Premium Gaming Laptop, Omen Family Upgraded With 165Hz Displays
HP is treating gamers to a handful of new and improved laptop options, including the first Omen to sport a 16.1-inch display, an Omen 17 that promises to deliver desktop-grade gaming on the back of up to an NVIDIA
GeForce RTX 3080
GPU, and the first offering as part of its brand new Victus line "with a distinctive lifestyle design."
What you see above is the Omen 17, the biggest laptop of the bunch. HP saved its best configuration options for the Omen 17, as it is the only one of the bunch to be offered with up to a GeForce RTX 3080 GPU. It appears to be the full implementation, too, with a
TGP of up to 165W
(suggesting support for Dynamic Boost).
The Omen 17 can also be configured with up to a Core i9-11900H processor, which is an 8-core/16-thread
Tiger Lake-H
chip with a 2.5GHz base clock, 4.9GHz max turbo frequency, and a generous heaping of 24MB of L3 cache.
It also sports up to a 1TB PCIe 4.0 SSD with the option to run two SSDs in RAID 0, Wi-Fi 6E connectivity, a mechanical keyboard with RGB backlighting, Thunderbolt 4 with USB4 Type-C, HDMI 2.1 output, and up to a QHD display panel with a fast 165Hz refresh rate.

HP Omen 16 Is The First Omen With A 16.1-Inch Display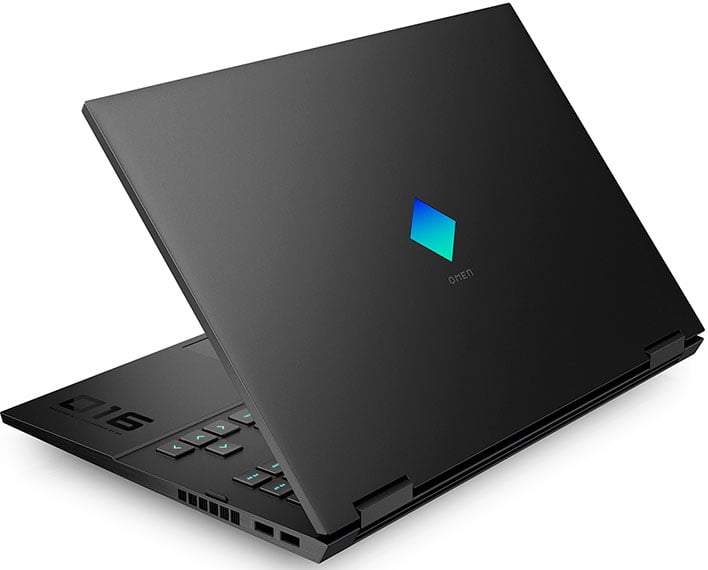 We suspect gamers will be intrigued by the Omen 16, for a couple of reasons. For one, it offers up a 16.1-inch display, also with up to a QHD resolution and 165Hz refresh rate, with narrow bezels on the top and sides so that it is closer in size to a typical 15.6-inch laptop. In essence, the Omen 16 serves up more physical screen real estate without the kind of jump in size that normally comes with going from a 15.6-inch to a 17.3-inch laptop.
Secondly, the Omen 16 can be configured with up to an Intel Core i7-11800H (Tiger Lake-H) or AMD Ryzen 9 5900HX (
Zen 3
) processor. Here's how they compare on paper...
Core i7-11800H (Tiger Lake-H): 8 cores / 16 threads, 2.3GHz to 4.6GHz, 24MB L3 cache
Ryzen 9 5900HX (Zen 3): 8 cores / 16 threads, 3.3GHz to 4.6GHz, 16MB L3 cache
It's a choose-your-weapon proposition, with your options being Tiger Lake-H or Zen 3, with up to 8 cores and 16 threads. And for graphics and storage, this one goes up to a GeForce RTX 3070 and a 1TB PCIe 4.0 SSD (also with a RAID option).

Other specifications are similar to the Omen 17, including Thunderbolt 4, HDMI 2.1, and Wi-Fi 6E connectivity. However, if it's a mechanical deck you are after, you have to step up to the Omen 17, which is the first Omen laptop to feature one.
Victus By HP Blends Gaming Performance With Black And White Color Options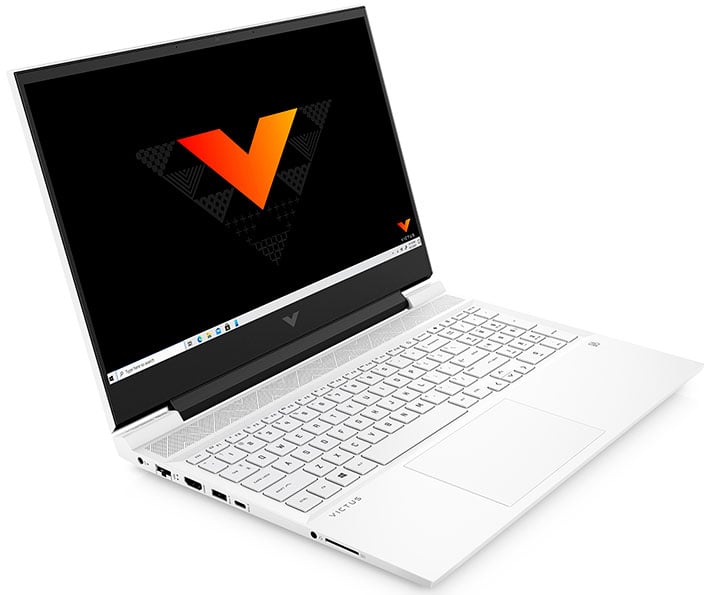 Interestingly enough, HP is pitching its new Victus lineup as the younger sibling to the "pro-ready Omen," and points to a lifestyle design. We say that's interesting because the latest Omen models look pretty sleek and refined from what we can tell of the renders. However, the Victus is being offered in three color options, those being mica silver, performance blue, and ceramic white (shown above).
This is another 16-inch laptop, and like its Omen siblings, it features panel options up to QHD and 165Hz, also with thin bezels on the top and sides.
As you might imagine, the little Omen that's not called an Omen is not quite as powerful, though certainly respectable—it's offered with up to a Core i5-11400H or Ryzen 7 5800H processor and up to a GeForce RTX 3060 or AMD Radeon RX 5500M discrete GPU.
Like the others, storage checks in at 1TB (PCIe 4.0), with the same RAID 0 option available to buyers.
All in all, HP has put together a decent lineup of
Omen and Victus gaming laptops
, and at attractive price points. The Victus by HP will start at $799.99 for an AMD config and $849.99 for an Intel foundation, the HP Omen 16 will start at $1,049.99 for AMD and $1,149.99 for Intel, and the Omen 17 will start at $1,369.99. All of these will be available next month.