HP Blocks Third-Party Printer Ink With New Firmware In A Typical Money-Grab
Hewlett Packard (
HP
) is once again causing its printer customers angst, as it is found a new firmware update locks out the use of third-party ink. The news comes just days after HP's Instant Ink subscription service was called into question as being sketchy.
Earlier this week, it was reported that if you sign up for HP's
Instant Ink
service and then later decide to cancel it, any of the ink cartridges you received through the subscription no longer worked. Now, it seems the company is also making it impossible to use any ink outside of its own, again.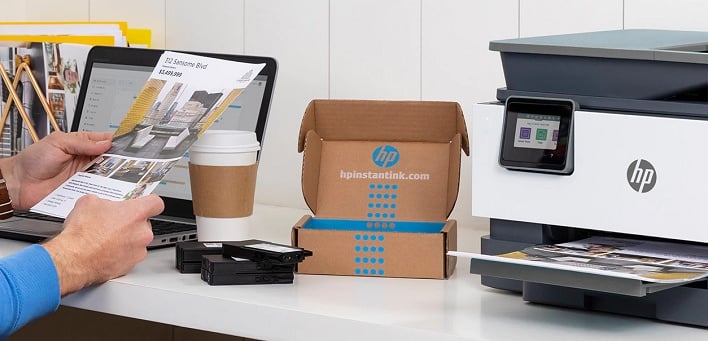 The new firmware issue was first reported on
Reddit
, and quickly saw others stating they had run into the same issue following the update. The message consumers were receiving read in part, "Non-HP Chip Detected: The indicated cartridges have been blocked by the printer firmware because they contain a non-HP chip. This printer is intended to work only with new or reused cartridges that have a new or reused HP chip."
This is not the first time that HP has attempted to block customers from using non-HP ink. The company's Dynamic Security feature has caused problems in the past and is once again rearing its ugly head.
HP is not hiding the fact that it is attempting to force its customers to use its ink, as it issued a statement to news outlets, remarking, "Dynamic security equipped printers are intended to work only with cartridges that have new or reused HP chips or electronic circuitry. The printers use the dynamic security measures to block cartridges using non-HP chips or modified or non-HP electronic circuitry. Reused, remanufactured, and refilled cartridges that reuse the HP chip or electronic circuitry are unaffected by dynamic security."
As of right now, there does not seem to be a workaround to the issue. However, that has not stopped those on
Reddit
from beginning to try and find one. One user posted that "There are sub-industry cartridges with fake chips that working well on printers," while others tossed around ideas of how the new update could be circumvented.
Those who have yet to update their HP printer may be able to avoid the lock-out of third-party ink by simply not updating the printer's
firmware
. Those who have updated will simply have to wait for a viable workaround if they wish to use any non-HP ink. Anyone who is in the market for a new printer may want to do a bit of research before purchasing to ensure the brand does not have similar practices.