Gordon Murray's T.50 McLaren F1 Successor Is A 700HP 'Analog' Enthusiast's Dream Hypercar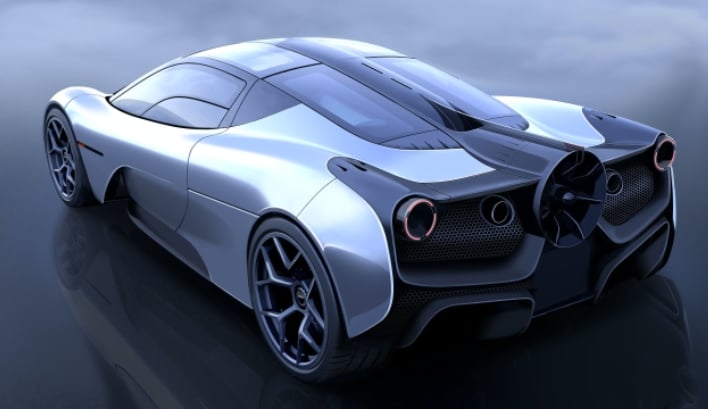 We've known for some time that Gordon Murray was working on a true successor to the
McLaren F1
. For those not in the know, the McLaren F1 is perhaps the greatest road car ever built and posters of it were plastered all over the bedroom walls of car-crazed teenagers during the 1990s.
"The modern supercar started with the [Lamborghini] Miura, in my view," said Murray in an interview with Car and Driver. "The McLaren F1 was the central milestone: very sexy, pure lightweight, nothing it didn't need. So, I thought, why don't we do the last great analog supercar?"
Murray is providing additional details on the T.50, which like the McLaren F1, will seat three people (driver in the middle, with the two passengers on the left or right sides sitting slightly aft). What is unlike the McLaren F1, however, is that it has a prominent 48-volt electric fan positioned in the rear of the vehicle behind the engine. The fan is used to allow air to flow more efficiently along the rear diffuser to generate more downforce. The fan will be able to operate at varying speeds to maximize downforce and even improve braking performance.

The fan is perhaps the most over-the-top aspect of the T.50's design, but the rest of the vehicle's design and powertrain are meant to adhere to the "analog" philosophy. Most of today's supercars and hypercars are powered by complex turbocharged engines, dual-clutch automatic transmissions, and hybrid systems composed of electric motors and heavy batteries.
The T.50, on the other hand, will make use of a 700 horsepower, naturally-aspirated V-12 engine (like BMW-sourced engine found in the McLaren F1) that is manufactured by Cosworth. The engine will be able to rev to a staggering 12,000 RPM and will send power to the rear wheels through a conventional 6-speed manual transmission. Murray isn't quoting performance figures for the vehicle, but we'd assume 0-60 times well below 3 seconds and a top speed well in excess of 200 mph.
According to Murray, deliveries of the T.50 will commence in 2022, and it will be priced at $2.6 million.