Google Pixel 8 Pro Render Leak Reveals A Refined Design And Curious Sensor
Leaked renders of the Google Pixel 8 Pro have surfaced from OnLeaks, in collaboration with SmartPrix and MySmartPrice, showing off some tweaks, refinement, and a couple of surprising head-turners.
If some of these renders end up holding any water, it's safe to say that the Pixel 8 is continuing the layout and look that started with the Pixel 6. It's not necessarily a bad thing: the horizontal camera bar is unique and almost a trademark design of the Pixel at this point. The designers have made continued refinements, like combining the lenses under one glass panel, rather than two pieces on the 7 Pro. It looks neater and could inadvertently "fix" the
shattering camera glass
issue.
There is an enlarged flash to the right of the lenses, while below that is a window of great mystery (at least on the 8 Pro). Currently, there's speculation that it houses a depth sensor of some kind—perhaps possibly even of the LiDAR variety. This might be advantageous not just for photography/videography, but also some kind of VR-based function.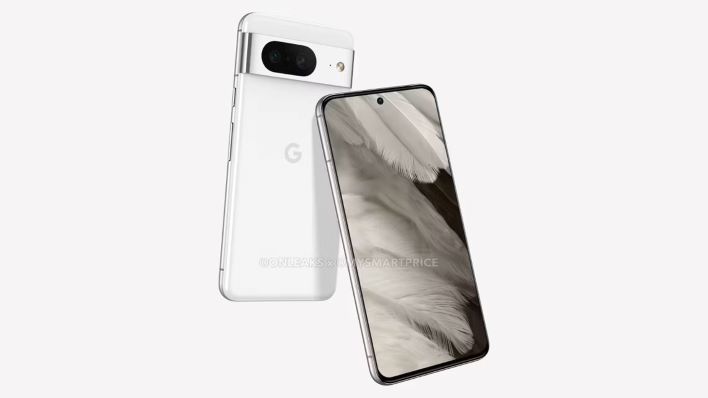 Pixel 6 Pro
and 7 Pro owners would be happy to know that Google might be listening to complaints about the curved display. The Pixel 8 series is tipped to bring a flat screen with slim bezels, thank you very much. The display curvature of the 6 and 7 Pros could make them uncomfortable to hold for long periods of time, was prone to false touches (partly due to poor palm rejection), and difficult to find glass screen protectors (let alone properly apply them).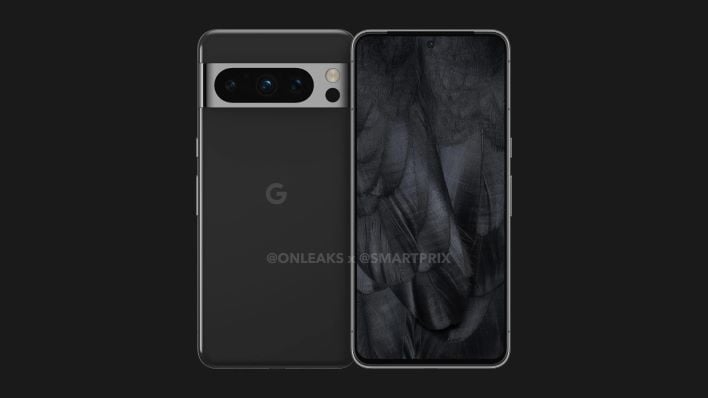 However, Google seems to have taken the curves from the display and moved them to the back corners and edges of the phone, bearing a close resemblance to the Pixel 2 XL. In general, this should make the phone more contoured to hold in the hand. We think it is a step in the right direction, considering the large dimensions of the phone (162.6mm x 76.5mm x 8.7mm).
Other reported niceties
are a 3nm-based Tensor G3 SoC, staggered multi-capture HDR (or the ability for the camera to capture short and long exposures simultaneously), as well as an in-display ultrasonic fingerprint sensor for the 8 Pro.
All images courtesy of: SmartPrix (unless otherwise noted)