This GeForce RTX GPU Finally Dethroned GTX 1650 On Steam's Hardware Survey
The results are in for the most recent Steam survey and according to the numbers, NVIDIA's
GeForce RTX 3060
is now the most widely-represented GPU on the world's most popular digital distribution platform for games. To get there, it had to leapfrog the GeForce GTX 1650, a budget friendly graphics card released more than four years ago.
That may seem like an easy ascent to the throne but GeForce GTX 16 era SKUs still figure prominently as some of the top GPUs on Steam, as it applies to market share. In fact, eight of the top 20 most popular discrete desktop GPUs on Steam are GeForce GTX 16 series parts.
Some gamers may find that surprising given that modern generation releases (
GeForce RTX 40
series and Radeon RX 7000 series) claim the lion's share of attention. However, we can reasonably surmise that the previous GPU shortage stymied what could have been a faster upgrade cycle among consumers. As time goes on, however, we expect to see more older GPUs trickle down in numbers.
As for the GeForce RTX 3060, it arrived in February 2021 with a $329 launch MSRP, making it the most affordable version of Ampere until the GeForce RTX 3050 (No. 9 on Steam's survey, or No. 8 if filtering out laptop GPUs) launched nearly a year later.
The market was in a bit of turmoil back then, with the pandemic, cryptocurrency mining, and GPU scalping all contributing to a shortage of GPUs. As a result, it may have taken a bit longer than it otherwise would have for the GeForce RTX 3060 to claim pole position on Steam.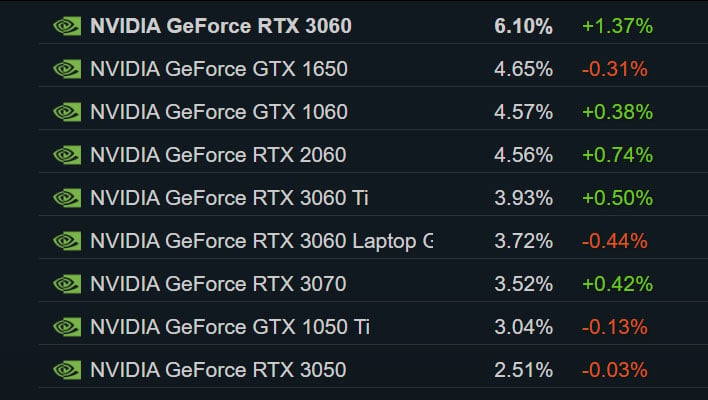 Of course, these numbers can and do fluctuate depending on which systems Steam pings each month. Keep in mind that the survey data is not all-inclusive. Nevertheless, it's the best real-world sample available of what hardware gamers are actually using. And based on the
latest Steam survey results
, the GeForce RTX 3060 is on top with a 6.1% share among gamers—enough to squeak by the GeForce GTX 1060, which fell to 4.65%.
It's also not surprising to see the GeForce RTX 3060 take the top spot. These days you can pick one up with 12GB of VRAM for as
low as $249
, or
even less
if opting for an 8GB model. Granted, the GeForce RTX 4060 doesn't cost much more and it supports DLSS 3 with frame generation, but a longer time on market and more VRAM are proving advantageous for claiming market share on Steam.