Samsung Galaxy S20 Hands-On Video Leaks Showing Off 120Hz Display And More
Another day, another leak featuring new details of the Samsung Galaxy S20 smartphone. The latest leak came in the form of a hands-on video that can be seen below. One of the big features that the leak confirms is that the display will have a 120Hz refresh rate.
The display is listed as having a 3200 x 1440 resolution and a tall 20:9 aspect ratio. While the size of the display wasn't confirmed in the leak, the S20 is expected to have a 6.3-inch screen and the Galaxy S20 Ultra a 6.9-inch screen. The hands-on has confirmed that the Galaxy S20+ will support 120Hz mode in FHD+ resolution; 120Hz mode isn't available in WQHD+ resolution. At the higher resolution, the screen uses the familiar 60Hz refresh rate.
The leak also confirmed an ultrasonic under-display fingerprint scanner. Some past rumors had speculated that the Galaxy S20 would ditch the ultrasonic fingerprint scanner that is inside the Galaxy S10 smartphone in favor of an optical scanner. The presence of an ultrasonic in-screen fingerprint sensor for the Galaxy S20+ is confirmed. Presumably, the other devices will use it too.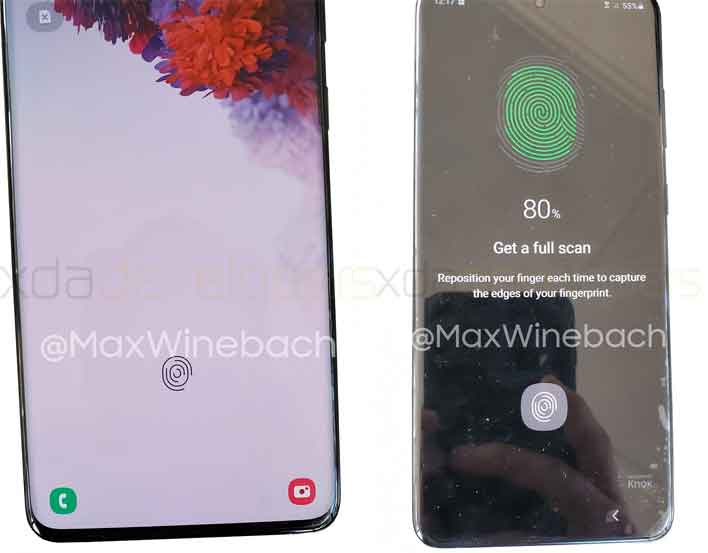 The primary difference between an ultrasonic sensor and an optical sensor is that the optical scanner area lights up, says XDA-Developers. The Galaxy S20 doesn't light up, and the ultrasonic sensor needs no light to work. One mystery is if the Galaxy S20 line will use the new Qualcomm 3D Sonic Max sensor. One really bad bit of news for fans of wired earphones is that the Galaxy S20+ will ditch the headphone port. The phone ships with AKG USB Type-C earbuds.
Other confirmations include that the smartphone will support 25W fast charging and that it will come with a Super Fast charger in the box. The phone in this video had 11GB of RAM, expected to be advertised as 12GB. Another rumor has suggested versions of the Galaxy S20 Ultra with 16GB of RAM.