Fortnite Chapter 2 11.30 Update Adds Split-Screen Mode, Winterfest Skins And Map Leak
The new 11.30 update for
Fortnite
has arrived, and with it comes a bunch of new stuff and the usual round of bug fixes. In addition, however, data miners have busted out their snow shovels and plowed through the codebase to uncover some winter-themed goodies, including a whole bunch of new skins and items.
Let's start with the official information.
Epic Games
has introduced a Split Screen mode in Battle Royale, in which players can play Duos or Squads with a friend on the same
PlayStation 4
or
Xbox One
consoles. The developer notes this is an early release and a work in progress, and is asking players to report any bugs via the in-game feedback tool.
You can also now preview what's in the Shop using your mobile device, and the daily item gifting limit has been bumped up from three to five. In addition, Epic Games changed the Ammo Indicator, and made preparations for the Star Wars: The Rise of Skywalker live event at Risky Reels on December 14 (2:00 pm ET).
As for the bug fixes, they include...
Resolved an issue involving the Safe Zone setting on Xbox One returning to 1.00 upon each login.
Resolved an issue involving some trees and metal fences in Arena not granting the correct material increase.
The Magma Wrap now appears correctly on the Bandage Bazooka and Pistol.
Resolved an issue involving the Bandolette Outfit appearing to have two hairstyles merged together.
Resolved an issue involving some items from the Twin Turntables set appearing grainy and pixelated.
The Social menu Friends List on mobile devices no longer auto-scrolls to the top when players try to scroll down.
Resolved an issue involving players' Quick Bar being inadvertently defaulted off on mobile devices.
Now for the fun (hidden) stuff...
Christmas Skins Headed To Fortnite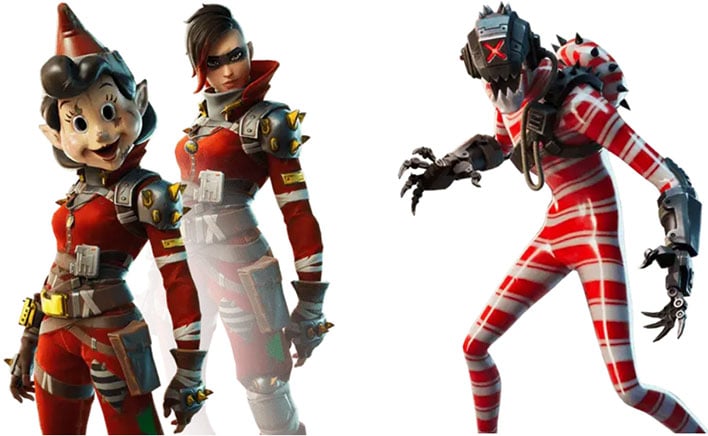 Last year, Epic Games did a 14 Days of Fortnite event for the Christmas season, with a bunch of rewards and challenges related to it all. It's not clear what exactly Epic Games has in store for this year, but there are a ton of new skins and themed items that will be making their way to Fortnite, as various data miners have uncovered.
Here's a look at the full suite of cosmetics...
Unfortunately that's the biggest image available of the whole kit and kaboodle, but you can see the various Christmas and winter-themed items and skins that will be making their way to Fortnite.
There will also be a snow map...
The general absence of snow during last year's event was one of the gripes people had. Yes, there was some of the white fluff to be found, but nothing that approaches the snow covered map you see above. It also looks like the Sneaky Snowman will make a return, as it is referenced in the Winterfest challenges that are bound for Fortnite...

Search Holiday Stocking in the Winterfest Cabin (1)
Stoke a Campfire (1)
Eliminations with an Unvaulted Weapon (5)
Hide inside a Sneaky Snowman in different matches (2)
Warm yourself by the fireplace in the Winterfest Cabin (1)
Dance at Holiday trees in different Named Locations (5) • Search a chest within 60 seconds after landing from the Battle Bus (1)
Use Presents! (2) • Open Frozen Loot (1)
Deal damage to an opponent with a Lump of Coal (1)
Search Ice Boxes (2)
Light a Frozen Firework found on beaches in Sweaty Sands, Craggy Cliffs, or Dirty Docks (1)
Search Ammo Boxes at The Workshop, Shiver Inn, or Ice Throne (2)
There will also be new buildings, including a ski building, a toy factory, and other new structures. Stay tuned!