Fortnite Chapter 2 Season 2 'Golden' Teaser Ads Are Now Appearing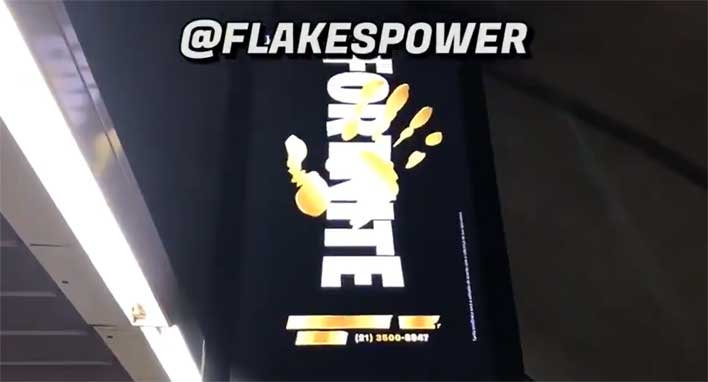 Epic Games has been teasing fans about Fortnite Chapter 2, Season 2 set to kick off this week on February 20. Ahead of the official launch, many fans are wondering what exactly the new season will bring. Rumors have suggested that the theme for Season 2 will have something to do with gold and possibly King Midas, who turned everything he touched to gold. The new advertisements feed into that speculation.
The advertisements have turned up on large outdoor displays in Brazil, Japan, and France and play a short animation. Some ads have a phone number attached; but what they all have in common is a gold handprint and gold bars that redact some of the text in the ads. Naturally, fans of Fortnite called the number that some ads showed.
渋谷の街のビジョンでフォートナイトのロゴだけの15秒映像が結構出てるんですが。しかも音無しで。はて?
単なるブランディング?#フォートナイト #fortnite #渋谷 #shibuya #謎 pic.twitter.com/IFx70UYuWV

— bgmasuo (@bgmasuo) February 10, 2020
Reports indicate that when the call is answered, a short-recorded message plays. The message says, "Yes sir." "The agents were called." "Card access to the safe purchased." Some think that the hints of gold mean that gold will be the fourth material added to the game alongside wood, metal, and brick. Some say that gold would be indestructible. Some fans are already worried about the potential gameplay implications of gold.
Epic Games has also changed its Twitter header to a golden handprint, and the profile picture is gold. Fortnite had also used gold bars to redact text in a teaser about the new season on its website. With Chapter 2, Season 2, starting in only a few days, we should know what Fortnite has up its sleeves soon. Leading up to the new season of Fortnite, Epic Games has teased fans with the introduction of a new rickroll dance emote.