Hackers Shoplift Personal Details Of 500K Forever 21 Employees In Retail Data Breach
This year, international fashion brand Forever 21, which has over 540 store locations, suffered a
data breach
affecting over 500,000 persons. As of late, a breach notice has been shared with the Office of the Maine Attorney General, and notices to affected parties will likely be delivered shortly.
On March 20th, Forever 21 reported that it had detected a "cyber incident that impacted a limited number of systems." Upon this discovery, an investigation was launched, which found that an unauthorized party gained access to Forever 21 systems between January 5th and March 21st and had access to select files on these systems. However, there is no indication that the actor "copied, retained, or shared any of the data."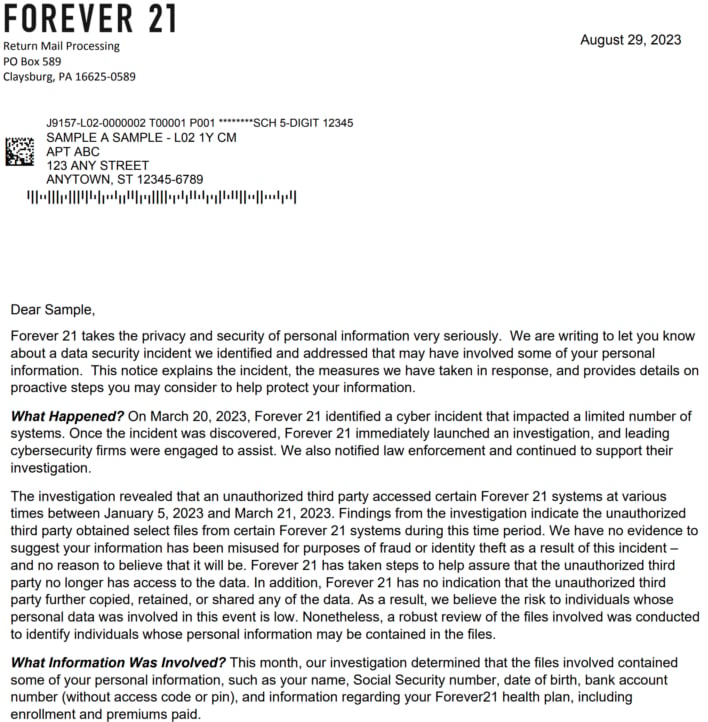 The
breach notice
further explained that through the investigation, it was found that the files accessed contained personal information of individuals, such as Social Security numbers, dates of birth, bank account numbers without pins, and Forever 21 health plan information. This indicates that this breach has only affected current and past Forever 21 employees and not customers of the company. Regardless, Forever 21 is offering a 12-month membership to Experian's IdentityWorks for affected individuals to monitor their accounts.
What is interesting about this breach is that the Forever 21 notice also mentions that "Forever 21 has taken steps to help assure that the unauthorized third party no longer has access to the data." This would seem to imply that Forever 21 was in contact with or at least is aware of the third party that had access to the data. This also falls in line with the earlier mention that there was no indication that the threat actor copied, retained, or shared any of the compromised data.
At the end of the day, while the data was not seemingly taken or used maliciously, 539,207 people were ultimately affected by this attack. Hopefully, that data will not end up for sale on some forum somewhere, but only time will tell. In the meantime, stay tuned to
HotHardware
for the latest in
security
and data breaches.