Elden Ring Dev Confirms Shadow Of The Erdtree Expansion Is In Development
Hold on to your Torrents, Elden Ring is getting a much-anticipated DLC after all. Called Shadow of the Erdtree, the news comes just in time to whet the appetites of its cadre of fans (a.k.a. the Tarnished).
FromSoftware, the developer of Elden Ring, sneaked a succinct
blog post
and
tweet
stating that the Shadow of the Erdtree expansion is "under development" with no promised release dates of any kind. As one of the biggest games (in scope and sales) of last year, Elden Ring is overdue for a major DLC at this point. If the studio's other offerings like Dark Souls and Sekiro are any indicators, FromSoftware should be dropping a large expansion every year, so it looks like fans will have to wait just a little longer. With over 20 million copies of the game sold globally, FromSoftware is under pressure to get this out, and get this right, soon.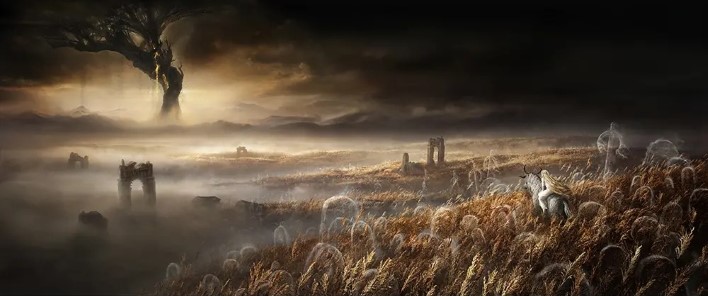 Nothing is known of the theme or storyline for Shadow of the Erdtree, save a rather cryptic image. It seems like Torrent is being ridden by a woman (perhaps Queen Marika?) over the hill filled with ethereal gravestones. They overlook an ominous storm in the distance shadowing what seems like a thunderstruck or bleeding Erdtree. Knowing the developer, we can be quite certain that it will not skimp on the depth and gameplay in the DLC.
If you've made it this far and still have no idea what Elden Ring is, here's why it's been such a big deal. The dark-fantasy RPG gained a lot of steam during its E3 2019 preview, thanks in part to the involvement of Game of Thrones author George R.R. Martin. When it officially launched in 2022, the hype matched up the critical reviews, becoming one of the most successful games of 2022. Besides its vast lore and engaging gameplay, it was also challenging to beat. In fact, it was the
top unbeaten game
of 2022 as well.
The expansion is slated to be available so far on PlayStation 4 and 5, Xbox One, Xbox Series X/S, and on Steam. In both the blog post, FromSoftware says that "the follow-up report is still a little ahead."