Doom, Doom II Re-Release Updates Bring 60 FPS Goodness And Sigil Campaign
Doom and Doom II fans have a new patch that has landed that brings with it a bunch of changes and add-ons to enjoy. The significant feature of the patch is that for the first time, both Doom and Doom II will run at 60 fps on all platforms. The previous versions maxed out at 35 fps. The patch also adds aspect ratio options to stretch the display vertically for the original 4:3 aspect ratio the game was meant to play in.
Support for add-ons was added, allowing fans to download and load them from the main menu. The devs promise to continue to add content that is a mix of official add-ons and some of the best community episodes and megawads that were released for the original Doom games.
The first of the add-ons that are included are "TNT: Evilution" and "The Plutonia Experiment." Those are two map packs that constitute the final Doom release. Also offered is "Sigil," the original campaign that was created by John Romero. Doom II fans get "No Rest for the Living."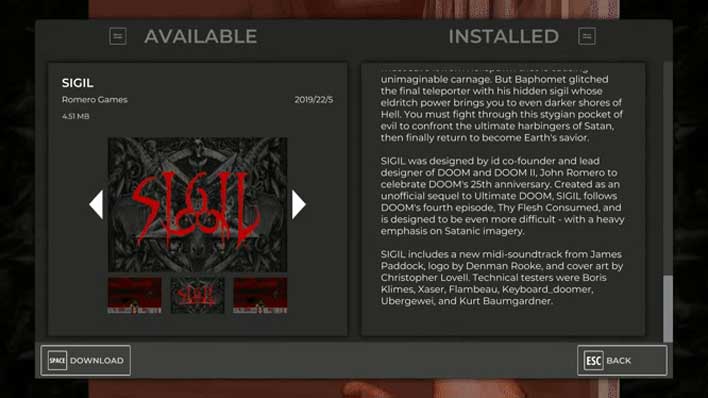 Other features added in the patch include quick save and load, level select, a new weapon carousel that lets you find the exact weapon you want. A quick weapon select menu was also added using the directional pad. Press up and get the shotgun, right gets the chaingun, down the rocket launcher, and left the plasma gun.
Brightness and level brightness controls are offered to make colors brighter and change the brightness of lights in the world. A new split-screen HUD was added that is used for split-screen multiplayer. This change removes the bottom status bar to give more room for the game to be displayed in. The full patch notes can be seen here.