Discrete GPUs Are Overpriced, You Say? They're Selling Like Hotcakes Again Anyway
The latest GPU shipment report from the graphics auditors at Jon Peddie Research reveals that add-in boards (AIBs) are selling surprisingly well, even amid grumblings about how the latest crop of graphics cards are priced. According to the report, there was a "significant increase in shipments" during a quarter that, historically, is a slow one.
"In a quarter that is traditionally down, quarter-to-quarter shipments had a significant increase in shipments. OEMs and the channel took more GPUs and add-in boards than normal, indicating the old inventory is gone and demand is high, despite web mutterings about AIBs being overpriced," the report states.
The timing couldn't be better for NVIDIA, AMD, and Intel. Total GPU shipments had been plummeting up to this point, and that's still the case if comparing to last year's performance—total graphics shipments are down 27% year-over-year, with desktop and notebook GPU shipments seeing declines of 36% and 23%, respectively. However, they've started to rebound and are doing so at an unlikely time.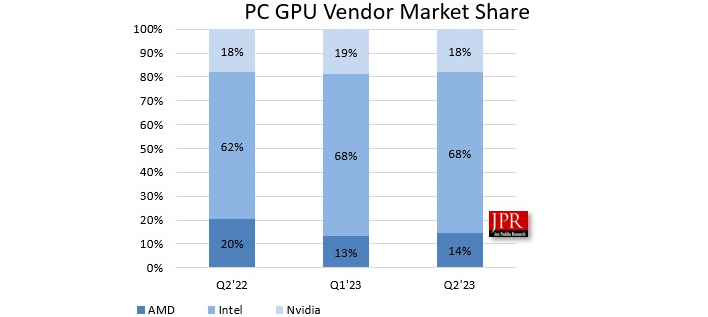 Compared to the previous quarter, overall GPU shipments shot up 12.4% to outpace the 10-year average of 8.1%. AMD saw the biggest gain at 22.9%, followed by Intel at 11.7% and NVIDIA at 7.5%. Bear in mind that those figures don't just include desktop graphics cards and discrete laptop GPUs, but also integrated graphics even if they go unused.
That's roughly in line with a 15% sequential uptick in CPU shipments (year-over-year CPU shipments are down 23%). Nevertheless, the surprise rebound is not tied entirely to integrated graphics. According to JPR, discrete graphics AIBs increased 2.9% from last quarter. Additionally, the market research firm predicts that the penetration rate of discrete GPUs will grow to a level of 32% over the next five years.
"Q2 was surprisingly up, significantly up, led by AMD in growth and by NVIDIA in total shipments. NVIDIA had their best results in notebooks, AMD did well in desktops, and Intel had year-to-year overall growth. The suppliers are bullish and expecting a strong third quarter, which is normal—if things will ever be normal again," Jon Peddie, president of JPR,
said a statement
.
Peddie went on to caveat that while this is all good news, the overall PC market—and by extension, the GPU market—has been steadily declining since 2010. He says, "if the market has indeed turned around, it's not going to get to the levels it was 10 years ago."
Still, you have to think that GPU makers are happy with the way things are trending. Especially NVIDIA, given some of the backlash it received over the amount of VRAM on some of its GeForce RTX 40 series. AMD seized on the opportunity by
dissing on its rival
while simultaneously championing the
amount of VRAM
on its Radeon cards.
NVIDIA doesn't seem to be any worse for wear. This is especially true when you look at the larger picture—NVIDIA is coming off its
best quarter ever
amid monster gains in data center revenue driving by a burgeoning AI market.