This Custom 43-Inch Laptop Is Hilariously Big And Weighs A Whopping 100 Pounds
A pair of fun-loving YouTubers have put together a hilariously large 'laptop'. The device is built around a clamshell design with a 43-inch TV in the lid, and
Intel NUC 11
inside the keyboard deck. It isn't only the dimensions of the project which makes it difficult to talk seriously about portability – a traditional laptop trait. The finished project weighed in at over 100lbs.
The quirky DIY projects YouTube channel duo, Evan and Katelyn, designed and assembled their paradigm smashing take on PC laptop design, in a recent video escapade. While compact or even tiny PCs trend – from the likes of Valve, GPD, Aya Neo and Minisforum – Evan and Katelyn mused over why we haven't really seen any laptops break the 21-inch barrier established by Acer with the
Predator 21 X laptop
in 2016.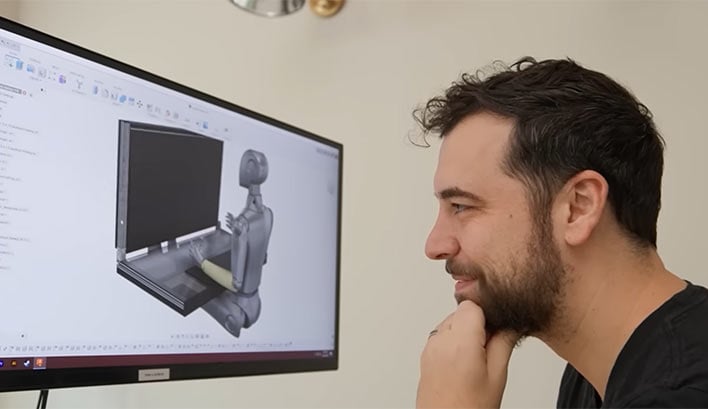 The dynamic duo started the 43-inch laptop project with a 3D model to get a preview of the finished product. Work began in earnest with the construction of the 'laptop' chassis – mainly aluminum extrusions plus locking hinges, which flexed two plywood sandwiches. The TV was bolted into the top of the clamshell design using its VESA mounting option.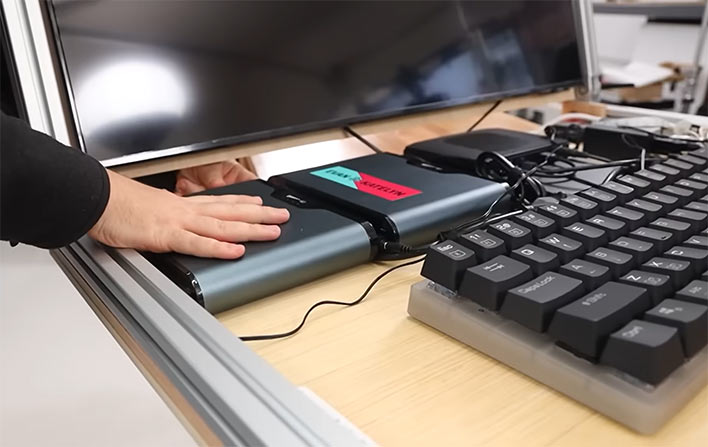 Deciding on the components that would make up the keyboard deck portion was somewhat more tricky. Constrained by a self-imposed maximum 2-inch height, the YouTubers apparently found it difficult to source compact (thin) enough batteries for a 260W computer powered by an
Intel NUC 11
with Core i7-1165G7, and an
NVIDIA GeForce RTX 2060
. In total, three batteries were sandwiched into this part of the device; one for the screen, another for the computer, and a further battery for the RGB LEDs and other extras. The sizable keyboard you see is a
Redragon K605 Alien Giant
mechanical model, with a width of 23-inches.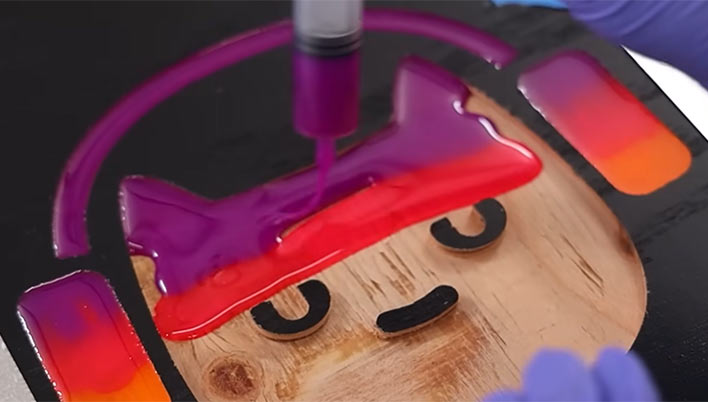 With all the components selected and double-checked for physical fitting and power budget constraints, the YouTubers went back into craft mode to make the 43-inch laptop look as good as possible. Naturally, they applied some of their DIY resin craft, and other skills.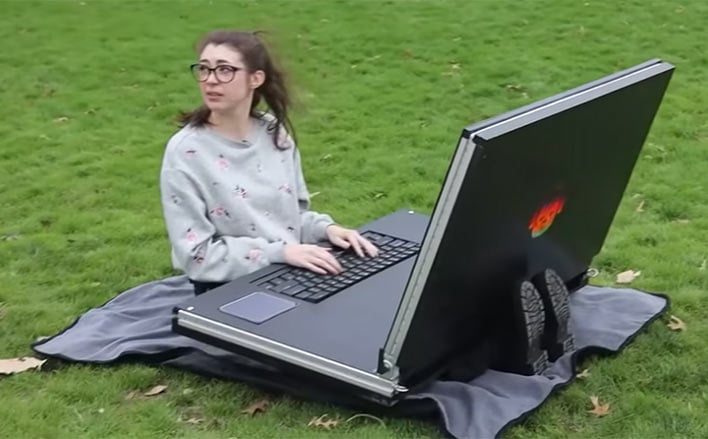 The end result looks pretty good, and Katelyn puts the size in perspective in the finishing scene of the laptop being used in the park.