Craob X Is An Insanely Thin, Light And Portless Alder Lake Laptop With A Unique Twist
Premium laptops have been getting thinner and lighter over the years, and one reason why is the removal of chunky ports. The svelte
MacBook Air
, for example, rocks just a pair of Thunderbolt / USB4 ports and a 3.5mm headphone jack—no USB Type-A or Ethernet ports. Craob says 'Hold my beer' and is introducing what it says is the world's first portless ultrabook.
The complete absence of any ports allows for a pancake-thin form factor. Actually, the Craob X, as it's called, is narrower than a fluffy pancake with a deliciously thin 7mm (0.28 inches) waistline. It's also feather-light at a mere 1.9 pounds. The MacBook Air with its fancy and
fast M1 processor
, by the way, is 0.63 inches at its thickest point (albeit 0.16 inches at its thinnest) and weights 2.8 pounds.
This is not an Arm-based system like the M1 MacBook Air, though. Instead the Craob X is powered by up to a 12th Gen Core i7-1280P processor based on Intel's newest
Alder Lake architecture
with Xe graphics. That's a 14-core/20-thread CPU comprised of six P-cores (Golden Cove) clocked at 1.8GHz to 4.8GHz, and eight E-cores (Gracemont) running at 1.3GHz to 3.6GHz. It also features 24MB of L3 cache and a 28W TDP.
Buyers can also configure the laptop with up to 32GB of LPDDR5 RAM and up to 2TB of PCIe 4 SSD storage. It all works together to drive a 13.3-inch 4K display with a "futuristic edge-to-edge" design (read: no or nary any bezels to speak of).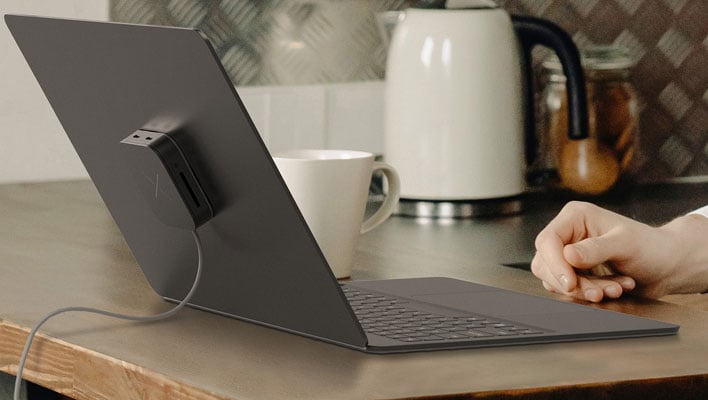 So what's the unique twist? While the laptop itself does not have any ports, it does come with a "PortsHub" accessory that magnetically attaches to the back of the system. This is actually a wireless charger with built-in ports. According to Craob X, this has never been done before.

"Craob X is world's first laptop with wireless charger that magnetically attaches to the back of the laptop to wirelessly charge it," the company says.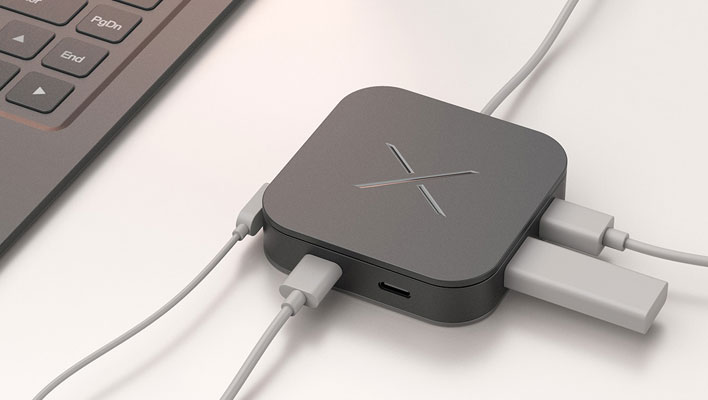 Craob X says it offers up a "wide variety of ports including USB-C, USB-A, Thunderbolt, and SD card slot, and a headphone jack." While not shown in the picture above, the SD card slot sits next to the headphone jack.

Circling back to the CPU, that chip has a 28W base power draw (PL1) and a 64W max rating (PL2). It will be interesting to see how it performs in an exceptionally thin and presumably fanless laptop design. Hopefully it won't be long before we find out—Craob says its
portless laptop
is coming soon (no word yet on pricing).