Cowabunga! Netflix Games Releases TMNT Shredder's Revenge On iOS And Android
Are you ready for an arcade-style experience on your mobile device? Well, get ready because it's also turtle-powered. That's right, the newest standalone game in the long list of Teenage Mutant Ninja Turtle titles dating back to 1989,
TMNT: Shredder's Revenge
, is now available for iOS and Android. It's (kind of) free, too.
Okay, let's get the cat out of the bag first.
TMNT: Shredder's Revenge
for mobile is not actually completely free. It is, in its entirety, available on mobile devices for anyone with a
Netflix
account. So yes, that means you do technically have to pay
something
to get the game on your mobile device. Regardless, this is probably one of the biggest titles added to Netflix's already impressive mobile gaming library. That library includes games like
Stranger Things
games,
Asphalt Xtreme
, and
Hextech Mayhem: A League of Legends Story
by developer Riot Games. Though Netflix Mobile games are not directly involved with the
Netflix Game Streaming
plans.
TMNT: Shredder's Revenge For Mobile Trailer
The description on
Netflix's website
states "Kick shell with Leonardo, Raphael, Donatello, Michelangelo or other familiar friends in this totally tubular '80s-inspired beat 'em up. Cowabunga!" and points out that the game will work on Android 8.0 and up with 3GB of RAM, and iOS devices that can run iOS/iPadOS 15 with an A12 Bionic chip or later.
An interesting feature for the title is not one we see often in many mobile games, and that feature is multiplayer. Not only is there multiplayer, much like classic arcade titles with four sticks for you and your friends to crowd around, this game supports up to four players simultaneously via online play. Each with their own dedicated health bar at the top. It's just like we remember in the arcades, save for the smell of cigarettes and terrible audio quality.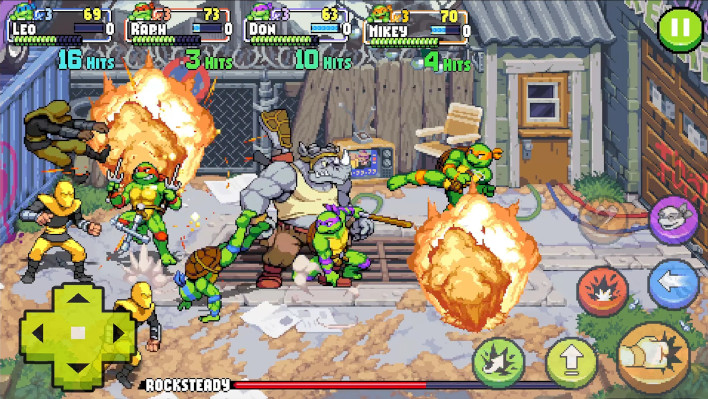 Screenshot of Rocksteady Boss Battle in TMNT: Shredder's Revenge
So, Netflix subscribers, if you'd like to pick up this title you can do so on the
Google Play Store
or the
App Store
. If you do, we hope you enjoy being any of the Turtles-in-a-half-shell, Splinter, or even April O'Neil, as they are all playable characters. Cowabunga!