CFD Gaming's PCIe Gen 5 SSD Launches With A 21K RPM Fan, Listen To It Here
We recently reported that the first consumer
PCIe Gen 5 SSD
had hit retail,
in Japan
, in the shape of the CFD Gaming PG5NFZ Series. Now, eminent Twitter PC hardware leaker momomo_us has acquired one of these impressive 10GB/s devices. The Tweet text translates to 'Gun gun gun gun' which in Japanese is a way of saying 'rapidly' or 'vigorously'. This phraseology is likely in reference to data transfer and the fan, as an embedded video shows the little spinner rotating highly rapidly—it can achieve an astonishing 21K RPM.
It is the video, and particularly the audio track of the video, which has precipitated the most comments on the above Tweet. It will come as no surprise to seasoned PC DIYers that a tiny fan with high RPMs is likely to be a recipe for unpleasant noise. Moreover, this M.2 SSD's cooler noise sounds like it would be hard to bear for any significant duration.
Some context would have been helpful alongside the video. For example, we don't know whether the rapid fan rotation was induced by a storage stress benchmark, or it was a rare occurrence in the day-to-day use of this computer. Also, an open air test system like the one shown does nothing to abate the transmission of the higher-pitched sounds of tiny fans, where a standard closed mini-tower case might make a big difference.

If momomo_us' tweet makes you nervous about PCIe 5.0 storage, there is a
noteworthy comment
from Chris Ramseyer, the Technical Marketing Senior Manager at Phison Electronics, to weigh. Remember, this SSD and others that look like it are probably built on the
Phison reference design
, so it would be understandable for Ramseyer to be defensive. However, he asserts that the "video is misleading," explaining that any fan can sound loud if you place a microphone "right next to" it.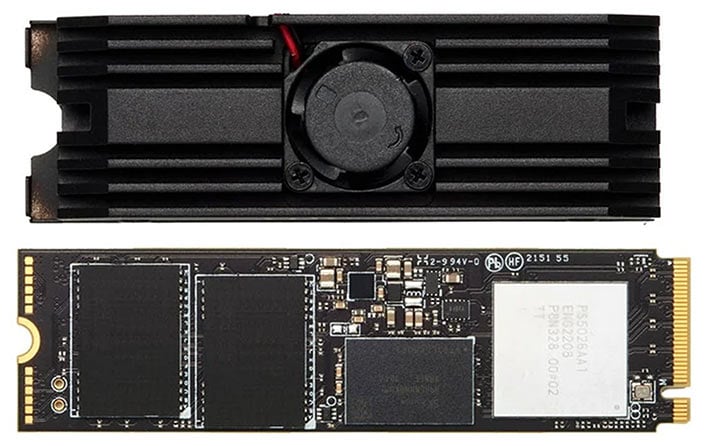 CFD Gaming's 2TB PCIe Gen 5 SSD costs the Japanese equivalent of $350. It will also be releasing 1TB and 4TB models later this year. Expect a number of PCIe Gen 5 launches in the coming weeks, many with bundled passive or active coolers to try and reduce the chances of throttling under load. Watch out for our PCIe Gen 5 SSD news and reviews as the products start to flow.