Microsoft AI-Powered Bing Chat Isn't Schizophrenic But Now Has Three Personalities
Microsoft's Bing AI chatbot has been making lots of news lately after
sending dark replies to users'
questions. However, despite these oddities, the chatbot is still an impressive and powerful piece of tech that aims to change how we use the web. That goal is being enhanced by new chatbot 'personalities' and impersonations to improve the user experience.
Announced on Twitter by Mike Davidson, Bing now incorporates three new styles of chatbot to expand the opportunities for
AI
conversation. These styles include creative, balanced, and precise modes that all yield different results to prompts. Specifically, the creative mode will tend to suggest more out-of-the-box options, whereas precise is more fact and reality-based, and balanced lands somewhere in the middle.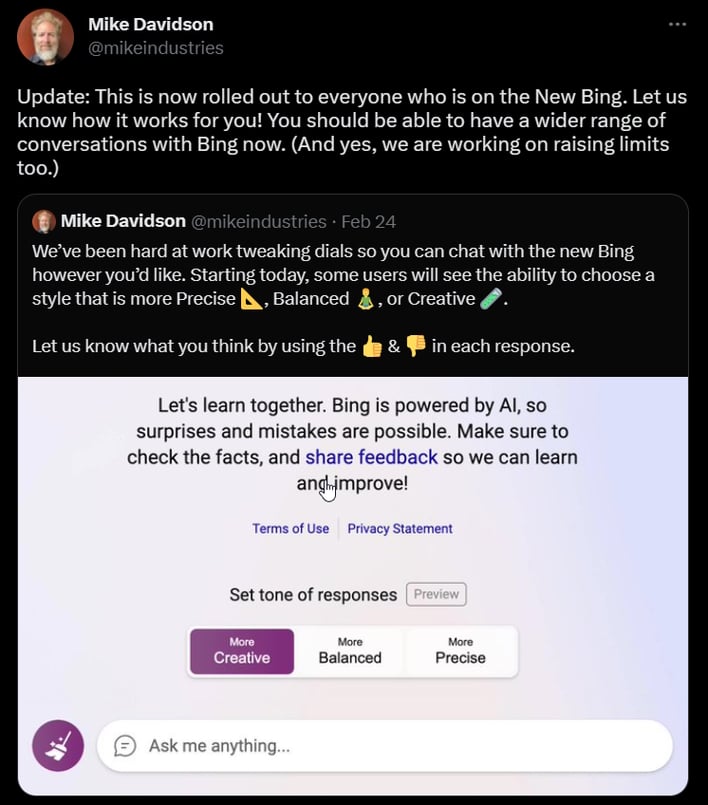 Beyond the new personalities, there are also new additions like secret chat modes that allow Bing Chat to be more of an assistant, friend, or even a celebrity, per reports from
BleepingComputer
. Users can enable the celebrity mode by simply typing "#celebrity name" in the chat, like "#Tom Cruise", "#Kevin Hart", or even fictional celebrities like Harry Potter. Hopefully, there is a Samuel L. Jackson mode in there because that might be quite fun, but there are some safeguards with this to prevent impersonations of politicians and other potentially controversial figures. However, with a little coaxing, this can be done anyhow, which might be fun to play around with all the same.
Ultimately, it seems like Bing Chat is stealing some of the
spotlight from ChatGPT
, even though the tool is still by invitation only. Hopefully, there will be a broader rollout soon so more people can play with all these nifty features. Until then, though, let us know what you think of Bing Chat in the comments below.